As I was still aching from the previous day's ride, today I had a short day of only 27 miles.  Also, as it was Saturday, I would be staying over for church.  It was a perfect time to rest in a city.
The previous day, someone at the RV park warned me not to take Hwy 78 to Blythe, due to heavy traffic.  "You'll get killed," he said, suggesting an alternate route.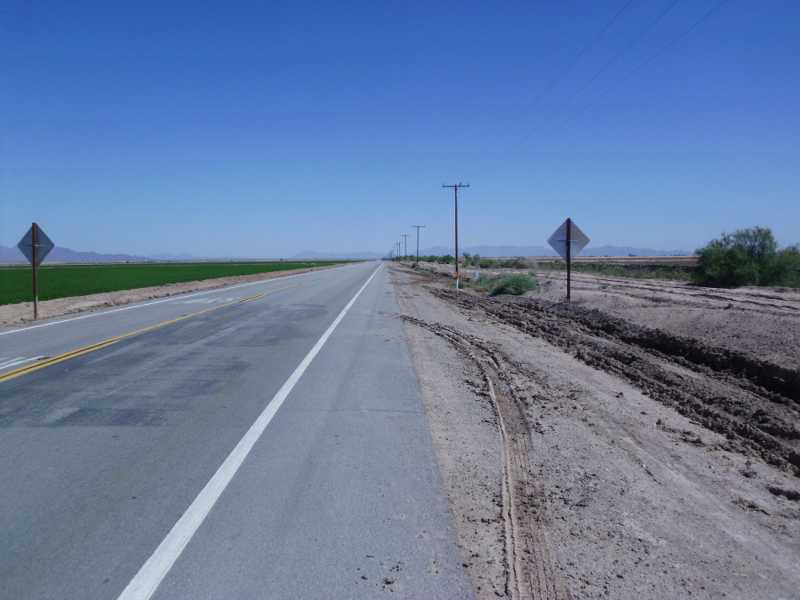 There was a headwind, and in my weakened condition, the ride was not as easy at it should have been.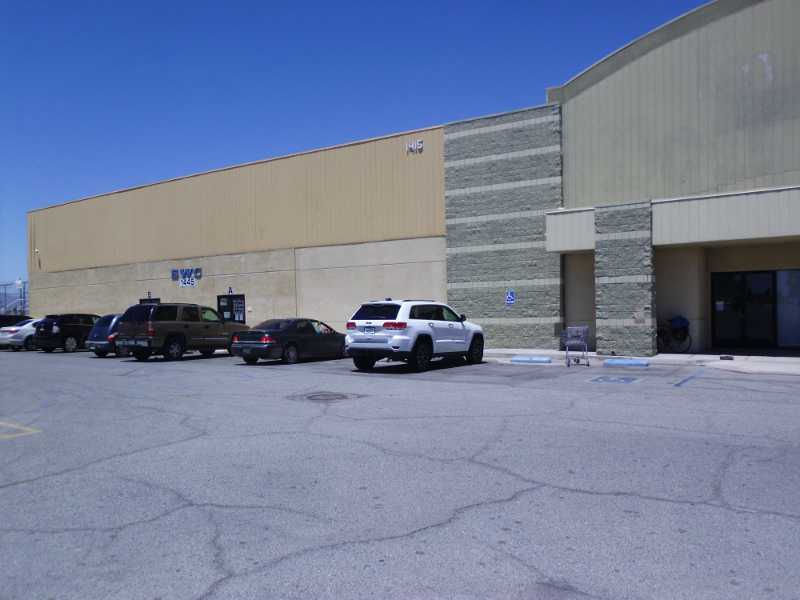 At Palo Verde, I realized that full-length sweatpants were impractical for the remainder of the trip. Way too warm. A pair of shorts would be better, not just for sleeping, but for walking around. At SWC, there was a huge selection of women's clothing, but as usual, the pickings for men were lean. The shorts were either too small, too large, or too golfy. I took the least objectionable pair into the changing room, and saw that some previous person had left a decent pair of cargo shorts, there. I tried on the cargo shorts, and not only were they functionally what I wanted, they fit perfectly. As all the other shoppers in the store were female, I assumed that whoever left the shorts didn't want them. I got them for $2.50 . Another sign?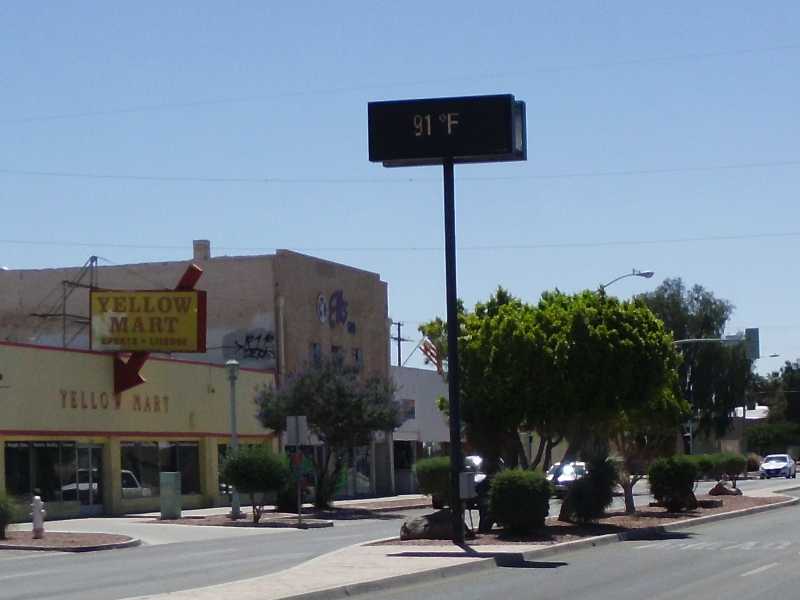 I had lunch at La Paloma restaurant, then looked for a motel. I had noticed a Sizzler restaurant, which I love for the salad bar. So I tried the motel across the street.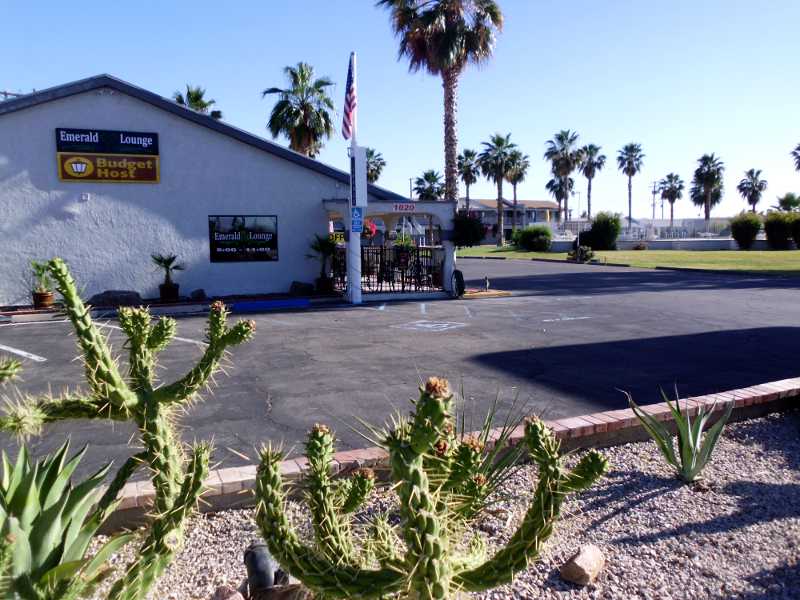 The woman who checked me in was A. I noticed that she was sniffling, and her eyes were watery. I asked whether it was allergy, or a cold, and she said that she was just upset, but it would be all right. After she checked me in, I asked if she might tell me what was troubling her. Being away from her kids for 16 days, and both of them have ear infections. Maybe I was put there at that exact time to hear that. I said I would pray for her children, and did. Would you join me?
I decided to try sink-washing my 3 shirts. After wringing them out, I hung them in the shower.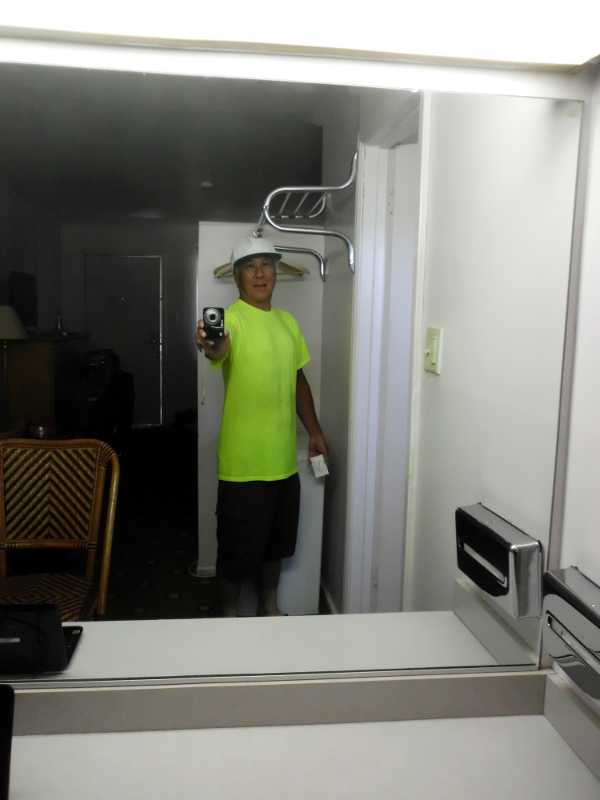 There was a Dollar Tree store 2 blocks away, so I decided to put on one of the shirts, sopping wet, for the walk over. It was cold when I first put it on, but very comfortable on the walk over. By the time I got to the store, the shirt was barely damp. I got a 42 oz Arizona Tea, a 1 liter box of Jumex Peach Nectar, and a can of Stax sour cream and onion chips. Prices are lower here than in my home town of San Jose. When I left the store, my shirt was dry.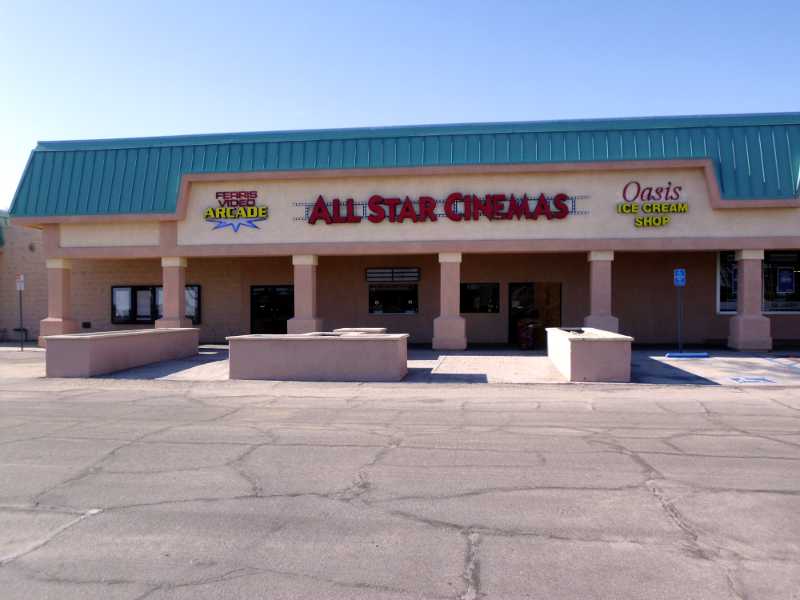 Dinner was at Sizzler, of course. I dried out a second shirt by wearing it to the restaurant. Forgot to use my room key for a 10% discount, but I suppose I saved that much money by doing sink laundry, anyway.
Miles for today: 27.0
(Visited 114 times, 1 visit(s) today)