I will be 65 soon, and in the USA, that means it's time to sign up for Medicare. This post is to document my impressions as I go. There are tons of conditions and corner cases with the program, so what works for me might be sub-optimal, or even impossible, for someone else.
Enrollment in the program is not automatic except in some rare cases. It seems to me that it could be automatic, at least parts A and B, for anyone with a social security number. Not signing up leaves a person wide open for crushing medical costs, or even inability to get treatment, so I really think it should be automatic signup for the eligible. I should just get a card and packet in the mail, with the ability to opt-out if I want.
About 6 months before my eligibility, I started getting deluged by offers for insurance. Some were just little cards, saying to mail the card back for free information. In some cases, a company outright just mailed a full packet with brochures and an application. There were mailings from insurance agents representing multiple companies. Social media advertisements start showing those offers, too. My advice? Treat it like any other cold-call or spam: throw it all away. However, some of the junk mail is printed on one side only of letter-size paper, so can be used as printer paper, or for scratch.
I checked out a book, Medicare for Dummies, from the library. Excellent reference.
Looks like coverage starts on the 1st of the Month in which I turn 65, not on my actual birthday.

Government Part of the Signup
Signup was not through medicare.gov, but through the social security website, ssa.gov. I had an account there, but if I didn't, I would have had to create one. I think there's some legacy paper process for signup, but didn't explore that.
The only hitch in signup was that they wanted my name exactly as shown on my social security card. Fortunately, I still had my original card from the 1960's. As expected, the name on the social security site was an exact match. That's unfortunate, as I would have preferred to apply with my full legal name. Other than the that, basic signup was just clicking a few boxes, and confirming contact information. Like most people, I signed up for parts A and B.
I got an email that said Thank you for your application, with a link so that I could check the status. In 2 days, I saw on the ssa.gov site that my application was approved. I never got any email announcing the approval.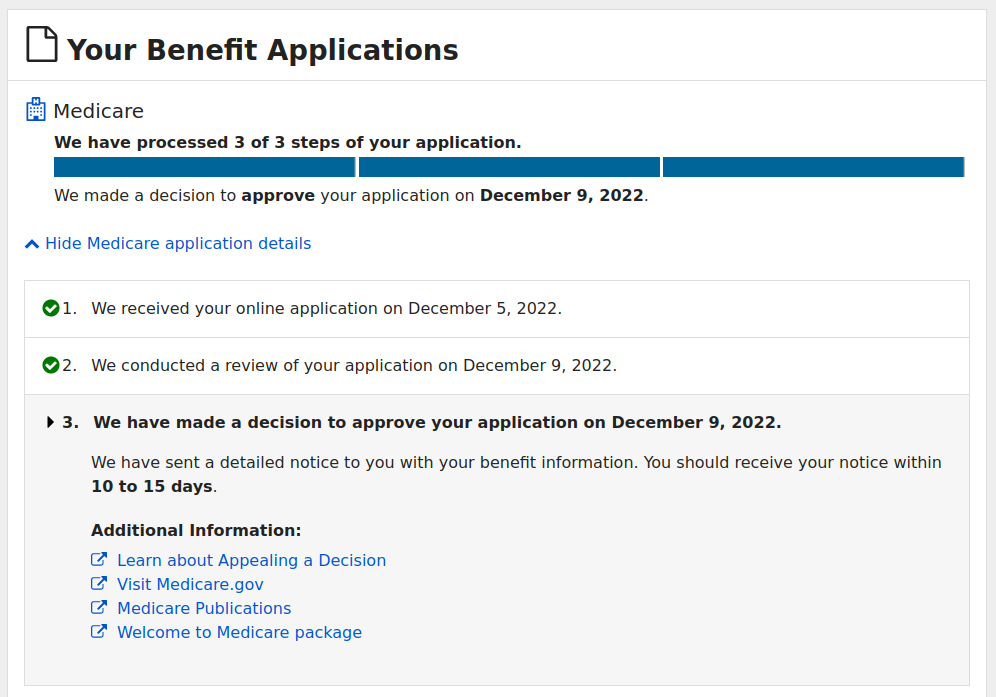 Quasi-Government Part of the Signup (part C)
Medicare A and B has no annual limit. Sure they pay 80%, but what if the bill is a million? That would mean my share is $200,000! No good! I'm generally healthy, and have no regular prescriptions, at this time. The kind of insurance I have now pays for very little – it has a high deductible, which I never meet. It has an annual out-of-pocket maximum of something like $8000, which I've never some close to, but if I had pay it, I could. That's the kind of protection I want going forward, which means a Medicare Advantage Plan (part C). In my case, the Advantage Plan from Kaiser will cost zero.
I can't apply for a Medicare Advantage Plan until I have my Medicare number, so I must wait.
On Dec 16, I got physical mail saying I was approved, and that the card should come in 2 weeks.
My physical Medicare card came in the mail on 12/24 (Christmas Eve). With that in hand, I applied online for the Kaiser Medicare Advantage Basic Plan on 12/31. That was easy: confirm contact info, choose from one of two plans. On 1/8, I got an email from Kaiser saying that I was accepted. A few days later, I got a physical packet from them in the mail, including the following:
My present medical insurance is from Covered California ("Obamacare"), and they sent me this notice in December: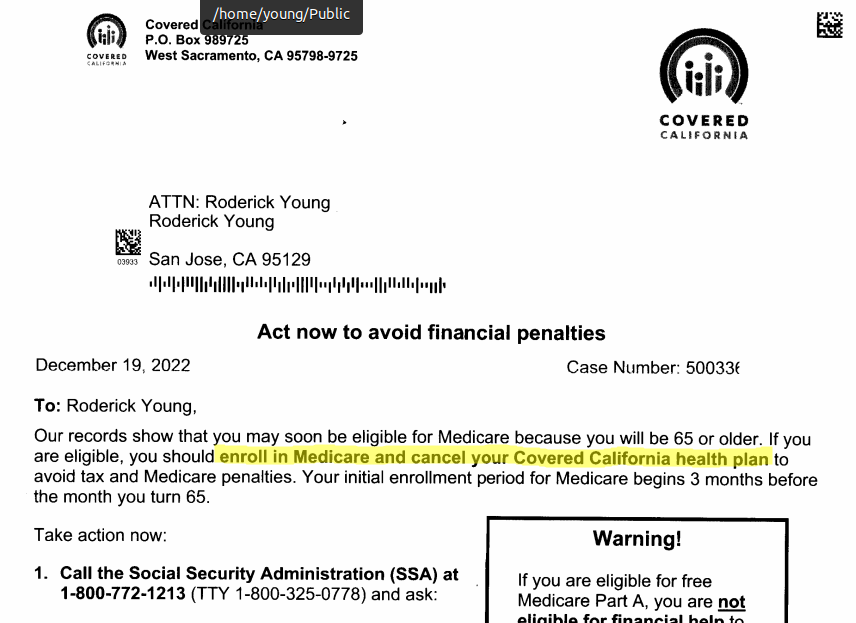 January 18, 2023: It's now within the 45 to 14 day window to call Covered California. I called them at 11:08 am. Had my cup of hot chocolate ready, and a browser open for the expected wait in the phone queue. Dialed, pressed 1 for English, then "Representative." Surprisingly, someone picked up in less than a minute. "Gwendolyn" told me that I need to wait until February to cancel, if my Medicare starts March 1st. The only way she could cancel me now would be to cancel the policy completely, which is not what I want. I confirmed that in February, Covered California could cancel just me, and leave my wife on the existing policy. So it's not really 45 days, but really from the first of the month before Medicare starts, and as late as 14 days before Medicare starts.
I expect that the Covered California premium will go down a bit, covering one person instead of two. I didn't ask; Covered California is so cheap, anyway.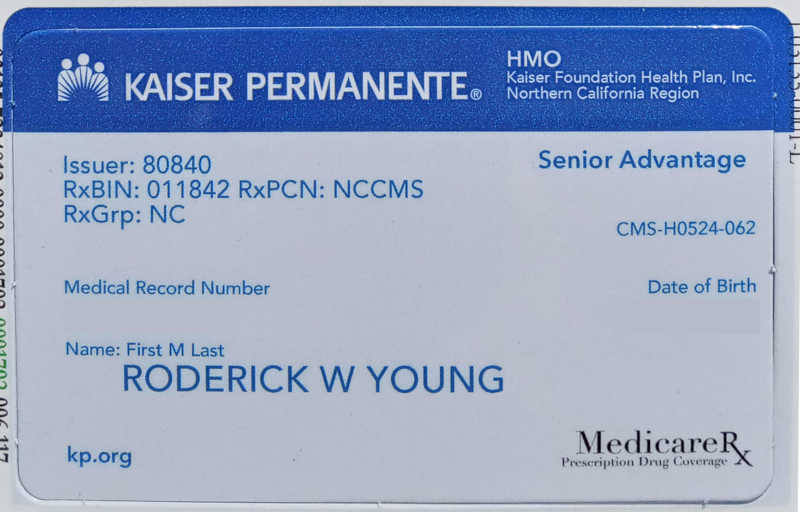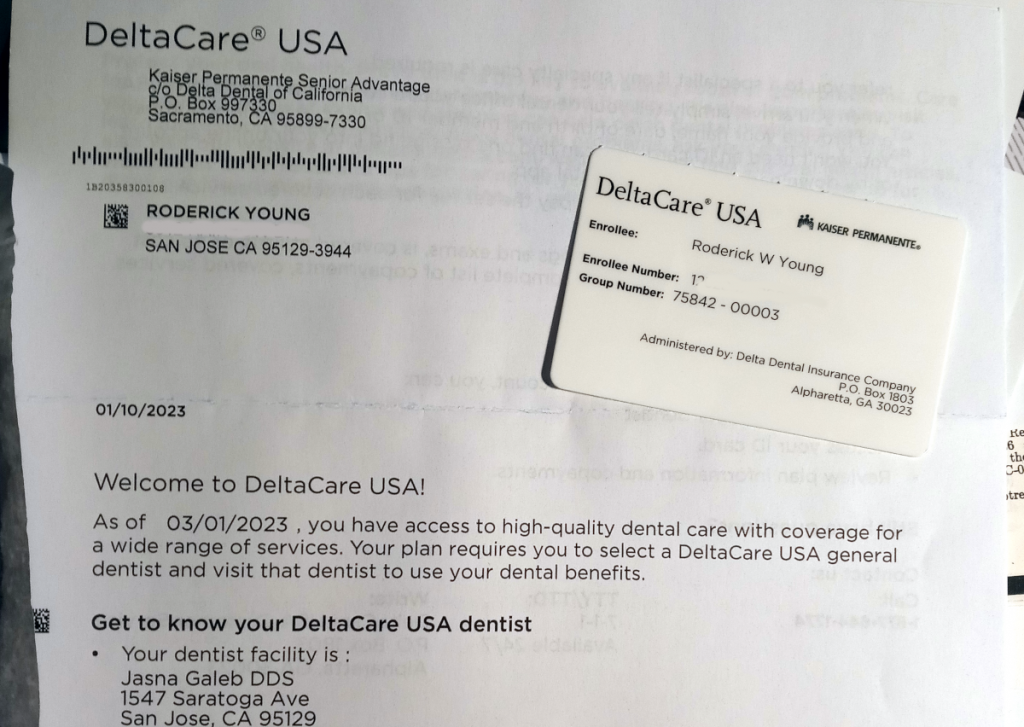 Feb 1, 2023: Okay, so now I'm in the month before Medicare starts. I called Covered California again. Press 1 for English. To the prompt about what I want: "Representative." Someone answered almost immediately. I told "Corey" that I wanted to stop my Covered California coverage, but keep it for my wife. No problem. He also noticed that our daughter was still listed on the family application – was she disabled? No, but she was a dependent. I also said that she wasn't receiving Covered California. He said that she shouldn't be on there, even so. Fine with me, please remove her. Our old premium was $799, approximately, for both my wife and self. The new premium was $927. That's right, more expensive to cover 1 person than 2. Maybe it was due to decreasing our coverage family size to 2? I don't actually mind. It's only until my wife turns Medicare age. And if the subsidy (if any) is based on family size, then when I fill out our taxes at the end of the year, any due to us will come back, anyway.
Feb 10, 2023: I got a paper bill in the mail for 3 months of Medicare part B $494.70, covering the next 3 months, and due on Feb 25 (not much notice). I just want to have automatic deductions from our checking account, so I went to medicare.gov to sign up for Easy Pay. I needed to create a new account, which was not possible before actually getting the physical medicare card with my medicare number. But in trying to sign up for Easy Pay, I got this back: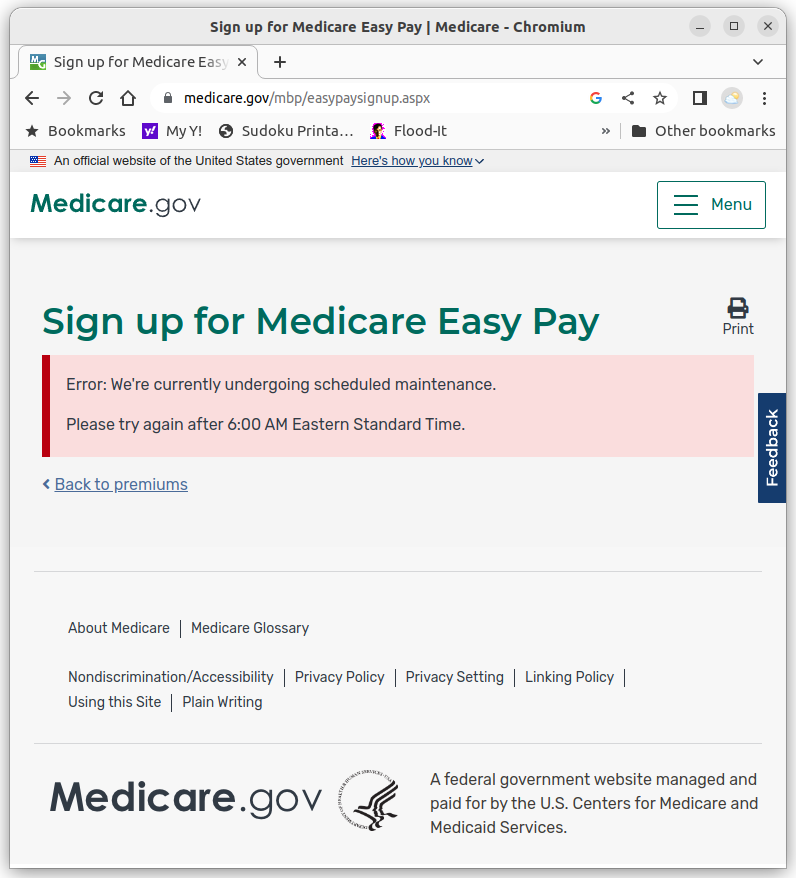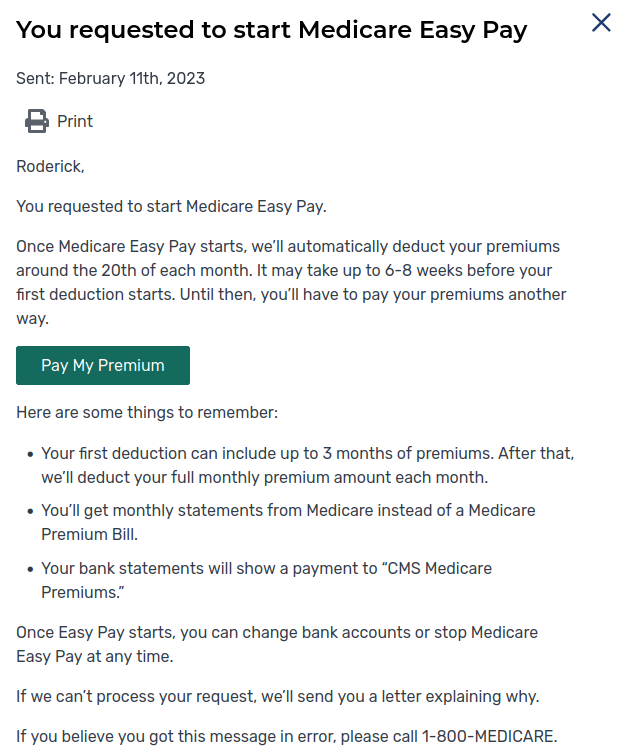 Update, 18-APR-2023: I found out that the Kaiser Plan I chose doesn't cover Durable Medical Equipment (DME). That's a shame, not getting help with a CPAP machine. If you anticipate needing some kind of equipment, make sure the plan you choose covers it.
Update, 12-JUN-2023: Yesterday, I got a "Medicare Easy Pay Premium Statement" (CMS-20143) in the mail. I thought I had signed up for all electronic delivery from Medicare. When I checked my account settings on medicare.gov, the only options were to get Medicare Summary Notices and the Medicare Handbook electronically. I called in to 1-800-MEDICARE (633-4227), and after wrestling with the poor voice recognition, got to an agent, David Cortes. He said that he could set my Easy Pay statement to be electronic, and took all sorts of information from me, including street address, but NOT email address. After he said it was all set, I asked him whether I could have done the change on the website, and he said yes, under Premiums. I searched under there for a while, with Mr. Cortez hanging on the line, but couldn't find it. He couldn't give me specific directions. After a minute, I told him it's fine, he fixed it for me, anyway. But now, I have doubts whether he really knew what he was doing. I'll see around this time, next month.
Update, 13-JUL-2023: Got another paper statement dated 6/28. Maybe paperless takes a while to kick in?
Update, 14-AUG-2023. Got another CMS-20143. I'm going to assume that the Mr. Cortez ws wrong, and that it's not possible to get the statement online. Too bad, in this day and age, that we have to waste paper for a routine automatic payment. The Medicare Summary Notices (MSNs) come online. Easy Pay is the only one with this problem.