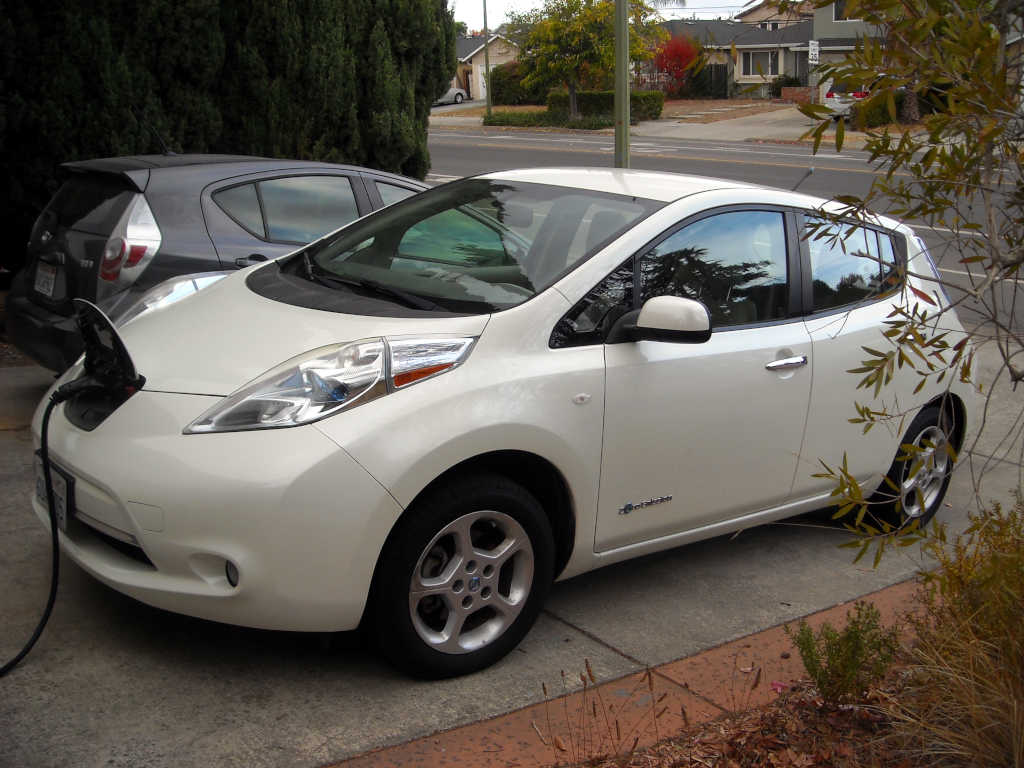 Our 2012 Nissan Leaf, like a cell phone, had slowly lost battery capacity over the years.
As recently as 2017, a replacement battery was $5999. But at the time, I thought, Why not get every bit of value out of the existing battery, and change later for $6000 when the car's range was no longer viable? Fast forward to 2020, and it was time. The battery capacity meter showed just 6 bars out of 12. The car was showing 42 miles of range with slow driving, which translated to about 30 miles of real range when the freeway speeds were included. That meant that the fuel gauge showing flashing single-digit mileage remaining while pulling into the driveway at home every day.
Remember that $6000 battery price from 2017? In 2020, it had quietly risen to $9000, not including ancilliary parts, labor, and tax. I needed to do some thinking. I could have gotten another used car for that. No wonder so few people got this done! Ultimately, I decided that at this stage in my life, money was less of a concern than my existing reliable solution. I would probably have advised by 30-year-old self to sell the car for whatever I could get, then purchase a hybrid.
I discovered that very few 3rd party shops were set up to handle EV battery replacement, and that those that did were far from me (at least 400 miles). I would not have expected that in the San Francisco Bay Area. So I made inquiries at several dealers. None would give me a price over the phone for the operation, and in fact, it seemed that they were all poorly informed about total cost. Service sent me to parts department. The parts department could not look up my battery without the VIN number from the vehicle, simply stating model and year was not enough. I only wanted a ballpark estimate in order to decide whether to do the replacement at all, but they couldn't do that. Also, the parts department didn't know what the labor charge would be, and when I got sent back to the service department, the person who could say was out. When I did get the VIN to dealers, I finally got quotes. One said that the battery was $6266, plus a $1000 core charge, plus $3120 of labor. Another told me that the battery was $8500, and had no idea of labor. Another thought the battery was about $6k, with a total cost of $10k.
Initially, I had considered going to a more distant dealer, where labor rates were lower, but that would have involved at least one or two stops on the way to recharge, probably at least 2 hours per stop. And if I decided not to go through with the replacement, there would be recharging stops on the way back, too. I decided to go to a nearby dealer.
The dealer had to take the car into the service bay to run some kind of required diagnostic, and get some serial number off the battery. For some reason, they could not quote me a price without doing this. The price of the battery was $8950. Then there was about $500 of other parts, plus a refundable $1000 core charge, plux labor, plux tax.
I looked at the sheet they gave me. There were no price breakdowns on it. Just the charge slip for my $9822.00 deposit stapled to it.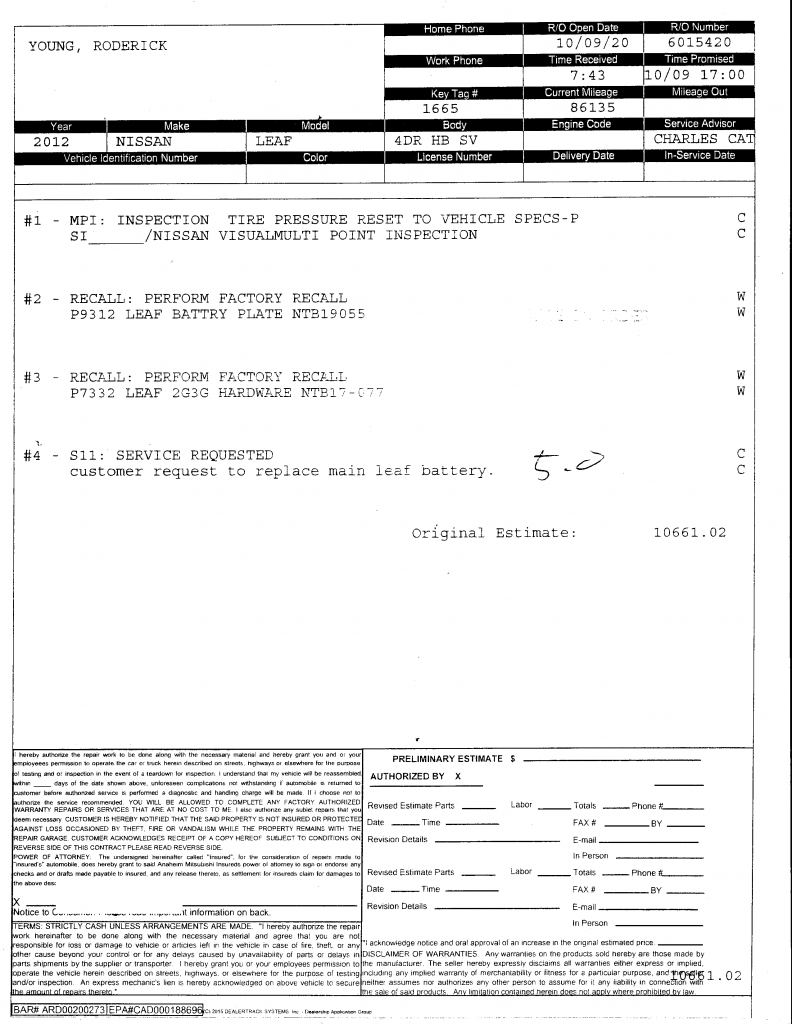 There are 4 items on the sheet above. The first has a "C" in the right column, meaning "Customer Pays." I didn't want the inspection if I had to pay for it, but it turned out to be free. Item #2 was a recall covered under warranty regarding corrosion on a battery plate. #3 was some kind of hardware or software upgrade, free, to convert cell service from 2G to 3G. #4 was the actual battery replacement. I didn't like that there was no price breakdown on that sheet, so requested the actual copy that they were using for ordering parts. The agent manually transcribed the prices onto a quote, saying that the actual order was misleading.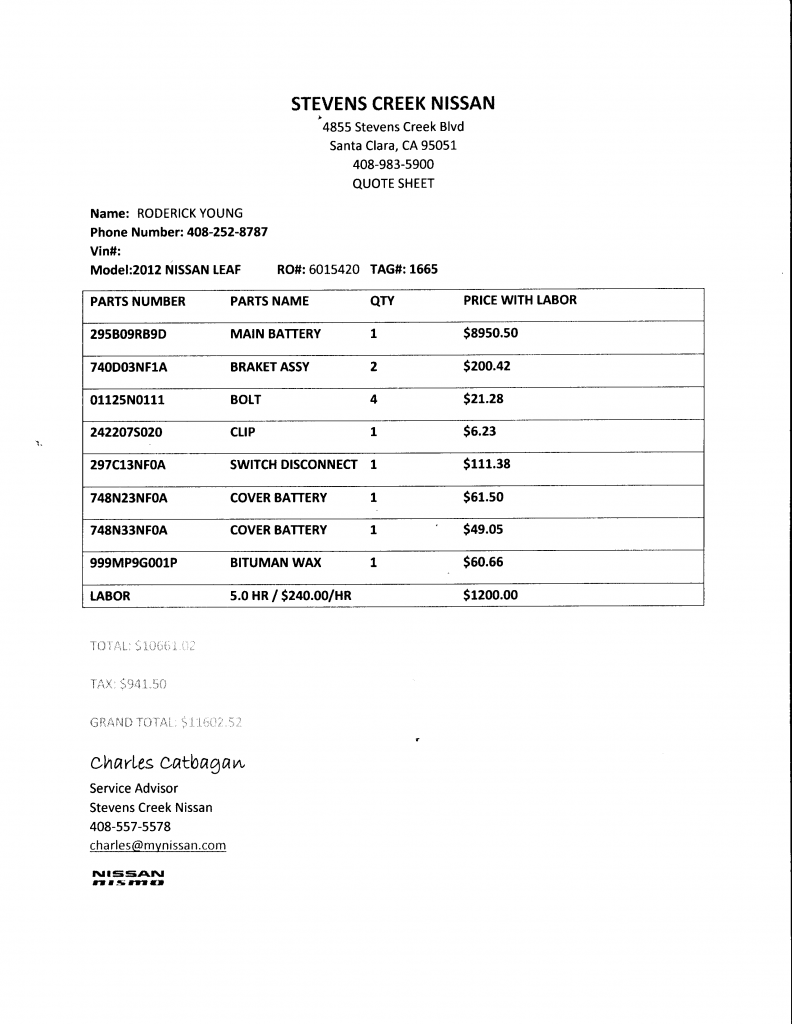 By the way, below is the actual order sheet that I got on a later visit. I would have been fine with just a copy of that.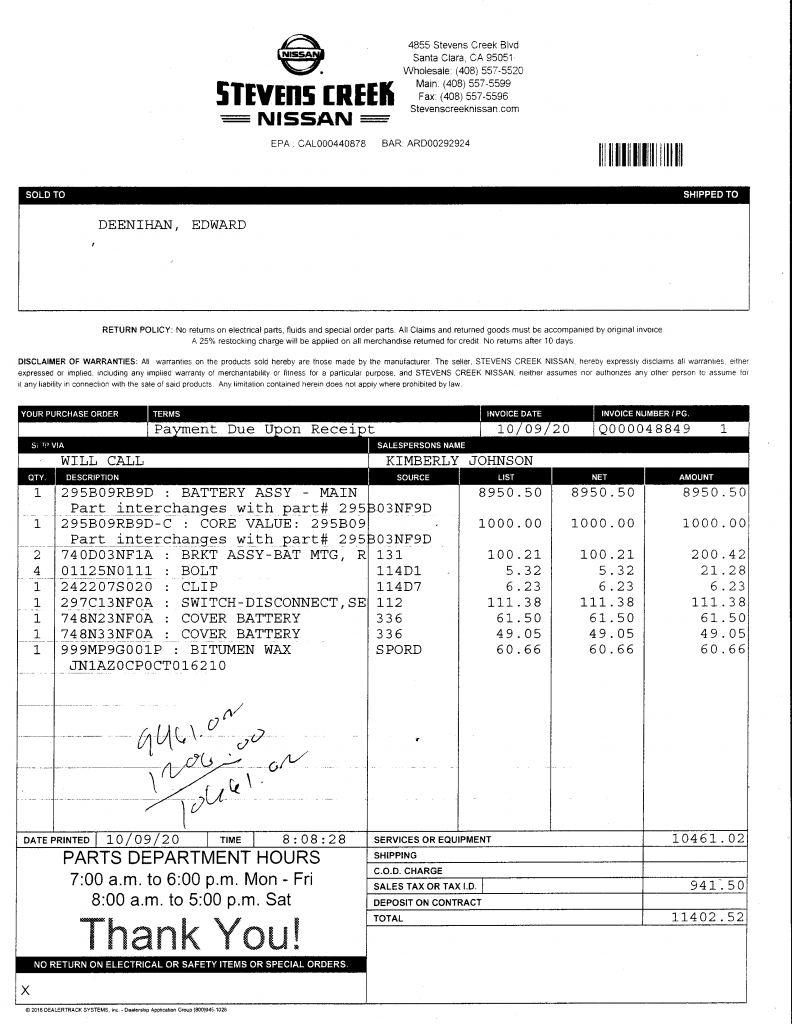 As I was about to drive off, they ran out to get me. One more serial number was needed before they could order the battery. They had to take the car into the service bay, again.
A few days later, Nissan called me. I needed to return again to sign a warranty before they could order the battery. This made no sense to me. An extra trip just for paperwork? Why couldn't I just sign the paperwork when the part arrived? I had already paid for the part. They told me that their protocol wouldn't let them ship the part until I signed the paperwork. It was becoming very clear to me that they had done very few, if any, of these battery replacements.
Here is the Battery Agreement and Warranty, if you are interested. It seems that Nissan is very concerned about communicating how long the replacement battery is supposed to last, and what they will cover. Perhaps they were getting a lot of complaints. Basically, they were saying that the battery will degrade over time, and it was warranted to give 9 bars of capacity for the next 5 years.
It seems that the battery warranty requires me to bring the car in once a year to get the battery checked. I asked whether there was a charge for that. Their technician "Brandon" didn't know, as he was accustomed to doing the check under warranty where it was free, but gave his personal assurance that he would perform the check for me free for the next 4 years.
Battery came in about a week after ordering. I dropped the car off at 7:30 am, and it was ready at 2:30 pm next day. They said that they were putting a full charge on the battery. I went in at almost at closing time, allowing over 2 hours for the charge. But only 8 miles of capacity were showing on the supposedly brand new battery.
They offered to charge it overnight. I declined. Looks like they didn't account for the charge timer, which shuts off at 3 pm due to tiered electricity at our house. A dealer should know about such things, though.
The final balance due was $1620.51, so the total for the entire operation was $11,442.51 . Whether that was a good value or not, I leave to the individual analysis of the reader. Considering post-pandemic prices of cars at the moment, it might not have been so bad.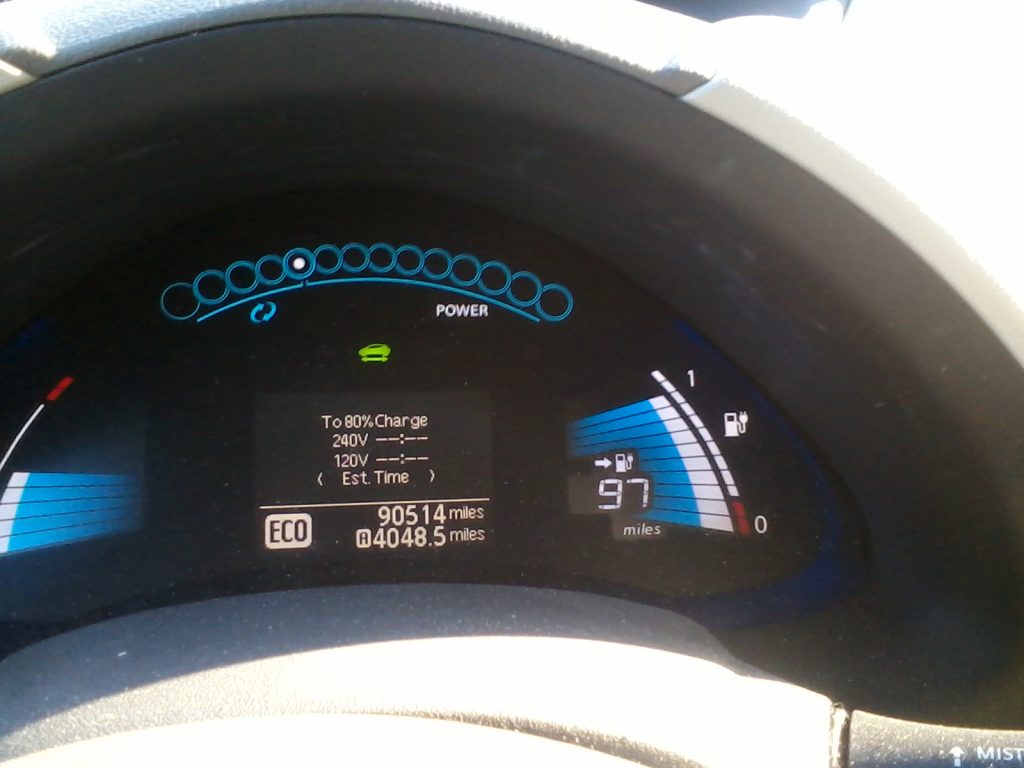 It appears that there might have been some firmware or other updates done, also. For one, the brakes really grab now, and the power meter goes deep into the regeneration side when I'm braking.
(Visited 76 times, 1 visits today)