What is bacon, really? Does it have to come from a pork belly? I had never seen the term, "beef bacon" until I came upon a package of Chef's Pride beef bacon in the freezer at Grocery Outlet. The 5-pound package for $5.99. Bacon for about a dollar a pound? What year is it, 1976!!? At that price, it was worth a try. The package said it was made from smoked beef plate. I suppose "bacon" sounds better than "salt beef" or "smoked beef plate." I think of plate as being stew meat, the kind that needs to be boiled to make it tender.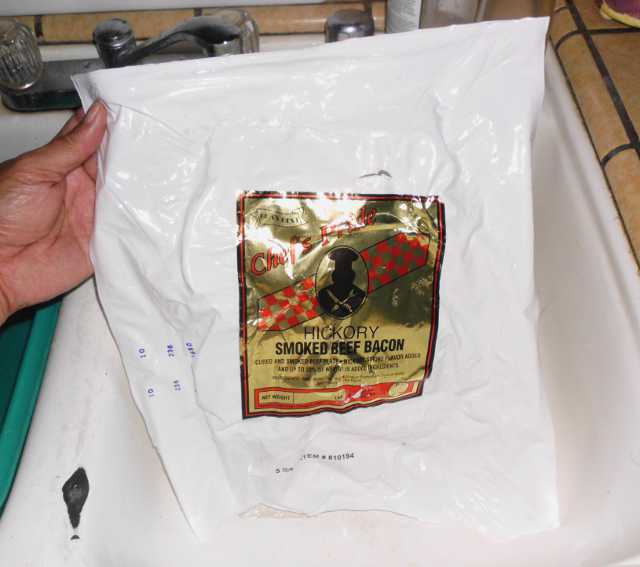 It's not made from pork, so maybe it's kosher or halal? I wouldn't bet on it, though.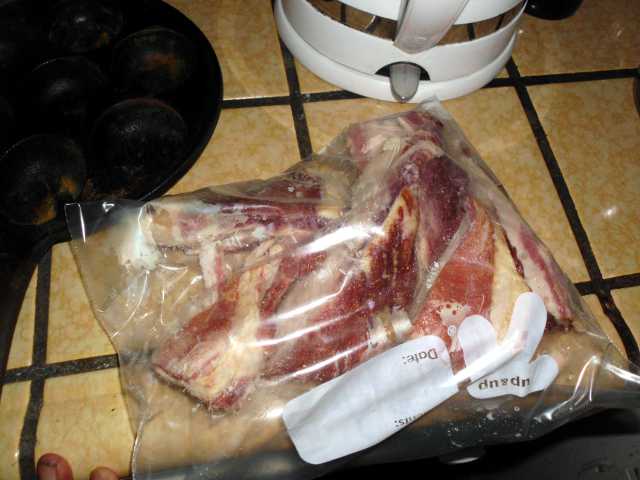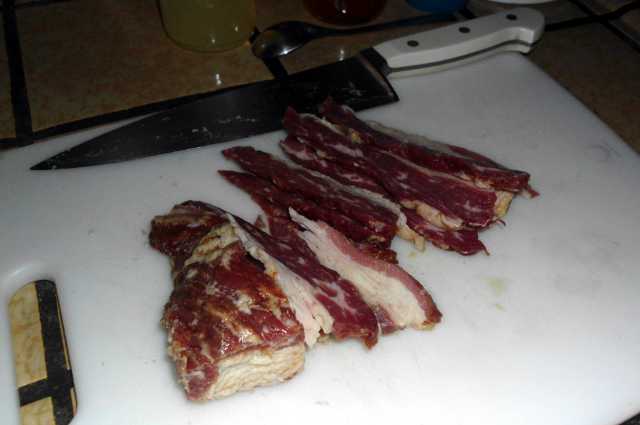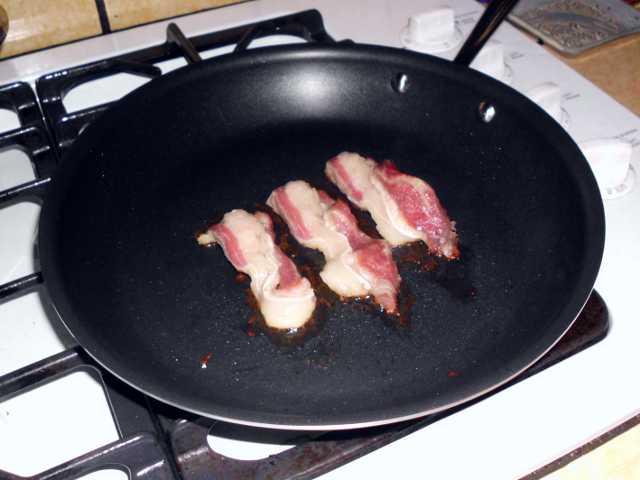 It did not smell like bacon while cooking. In fact, the aroma was more reminiscent of hamburger than anything else. It curled up like bacon while cooking, and rendered a decent amount of grease, maybe 1.5 tablespoons for the 3 slices that I cooked. I used some of grease for frying a couple eggs later. It acted just like bacon grease.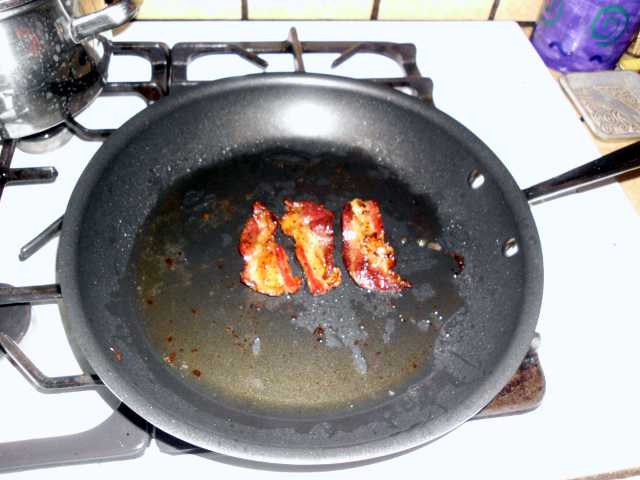 But how did it taste? It was really salty, with a hickory smoke flavor. But it clearly wasn't bacon, neither in texture nor taste. The lean parts were tough. If you like beef jerky, the texture was similar. The portion of fat that melted into grease was fine. But the remaining fat did not crisp up the same way that it does with pork bacon. Some portions were crumbly-tender, but there was always a tough stripe of gristle running through each piece. I later found that cooking the product extremely well done would make the gristle brittle, but that was sort of like transforming it from polyethylene to polystyrene. The gristle is a fun food to toss outside if you have scavengers like ravens or raccoons to feed, or it could be something for your dog or cat to gnaw on.
Summary:
This brand of beef bacon is NOT a close replacement for ordinary pork bacon.
It's very cheap compared to pork bacon.
It renders a lot of good grease, if you have a use for it.
There is a (pretty much inedible) stripe of gristle in every slice.
With the gristle trimmed off, works well as a flavoring for greens, such as collards.
Think of it as salt beef, or beef jerky, and you'll be fine.
(Visited 332 times, 1 visits today)