July 23, 2010 1:02 am
This morning (technically, yesterday morning), I went back to the laundromat. They had a motion sensor that opened the door for approaching customers, who would otherwise have to go through contortions to hold the door and bring in their laundry at the same time. I was able to wheel the whole bike in. The wash was only $1.50, and I was able to dry our small load for 2 more quarters. In a small way, it compensated for the expensive motel.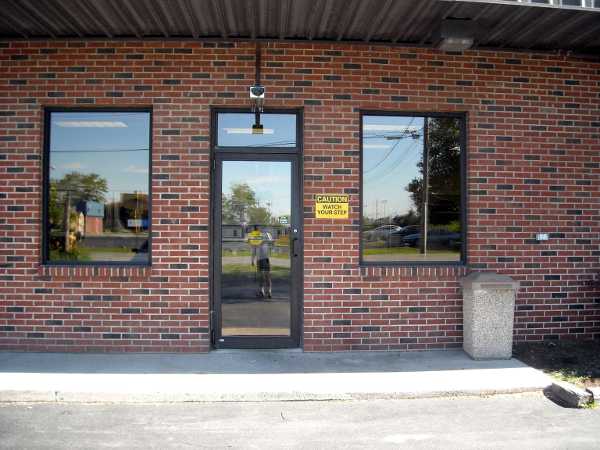 After we checked out of the motel, we went back to Mighty Taco for some food.
Just down the road, in downtown Lockport, there was access to the Canalpath Trail. It's a bike and jogging trail that follows the Erie Canal. If you look at the background behind Elliot, you can see the spillway for a lock. When we got to the bottom of the ramp, we found that access to the trail was closed for construction. We went down the road a mile or so, and picked up the trail at Upson Park.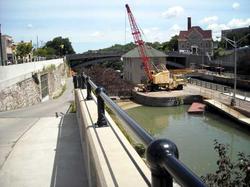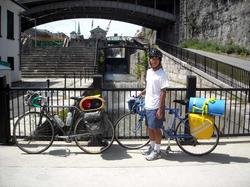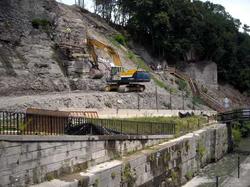 The Erie Canalpath Trail was generally hard-packed fine gravel. We tended to go 10 to 12 mph on it. Very Scenic. People were fishing and having picnics all along it, on both sides of the canal. The water is brownish in most places, like the Ala Wai Canal.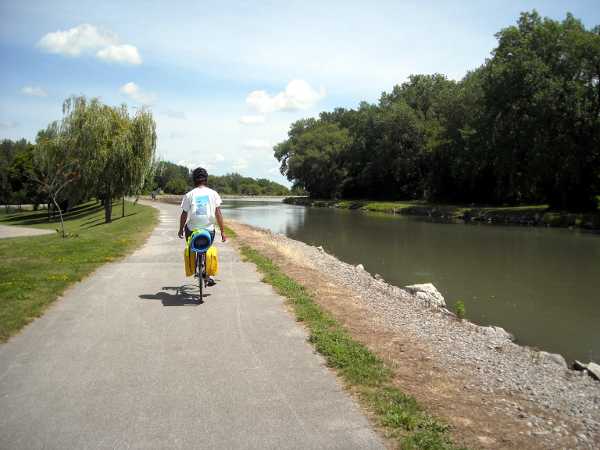 At Gasport (all the towns seem to be named something-port), we stopped at the unassuming Canalside Inn for lunch. Our server, Darcy, gave us all kinds of useful information. She said that there was a good store called Wilson Farms in Middleport, the next town. She also said not to go beyond Brockport, because then, we would have to go all the way to Rochester for a motel. Their specialty was Beef on Weck. For those who are not followers of Diners and Drive-ins, Weck is a regional roll that is crusted with salt and caraway seeds. It's packed with roast beef, and generally eaten with horseradish. An Arby's sandwich is somewhat like it, but to make the comparison would be to insult the Weck. Beef on Weck is really good.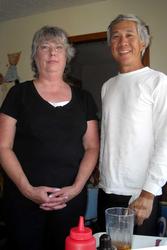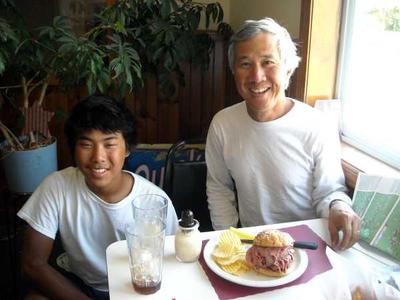 We visited Wilson Farms at Middleport, and got our usual cold drinks. Outside of the store, we ran into Phil. He was cycling from Dayton, Ohio, and had been on the road six days. He figured another five to reach his friend in Montreal. He did the Transamerica trail twice – once in 1980, and again six years later. Soon, he would reach 80k touring miles. At 64, he had been retired for 6 years. There was very little on his bike. He was built for speed, not for contingencies. We had the same destination in mind – Spencerport, which Adventure Cycling said had motels. As we left the store, he sped off into the distance.
As we were headed back up Main street in Middleport, Elliot's stomach didn't feel right. We looked at several stores for a restroom, but even the laundromat didn't have any. I suggested the internet cafe across the street, which admittedly, I would never have noticed unless we were searching for a restroom. The Alternative Grounds Caffe turned out to be a find.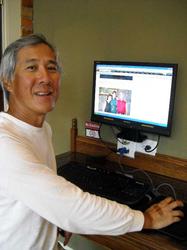 They had ice cream, pastries, and hot and cold coffee. The table surfaces were coffee beans under glass. It was just a very pleasant place, with soft alternative music playing in the background. At 4 pm, I was surprised that the place wasn't packed. I sipped on an iced mocha while checking the internet. They did have Wi-Fi, of course, but I didn't need it, as Beth, the barrista, booted a station for me.
While Elliot was checking his email and facebook, I chatted with Beth, and her co-worker (or possibly just a friend?) Chanise, who walked in. Beth had been working at Alternative Grounds for 2 years, and had just graduated high school. She would be attending the local community college in the fall, 3 days a week. Chanise had already completed her first year of college. Like Beth, she wasn't sure what she wanted to do, either. She liked children, but didn't want to be a teacher. Both of them were musical – Chanise on the clarinet since 4th grade, and Beth on piano (by choice, not forced), but neither had touched their instruments since high school.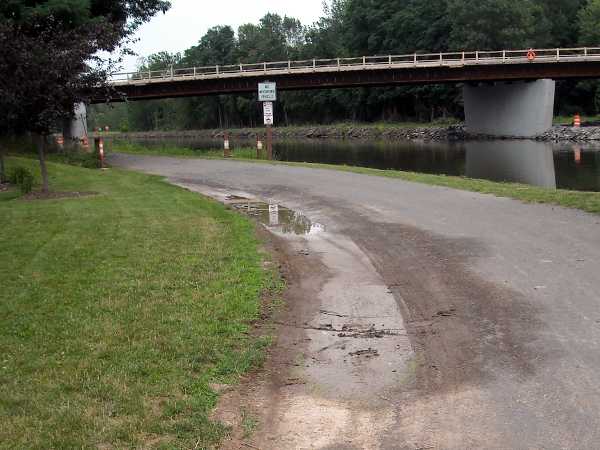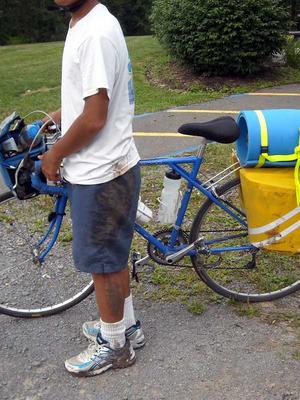 Just after Medina (rhymes with Vagina), the trail was closed again, so we turned back. Elliot hit a patch of mud while turning, and fell for the first time on the trip.
As we passed through Brockport, we saw an Econolodge right on the road. On the word of the Adventure Cycling map, we continued on to Spencerport. As we neared the town, a man riding in the other direction on a folding bike made a U-turn and rode alongside us. His name was Duane, and he rode about 2000 miles a year to keep in shape after a heart operation. I asked about the Motel, and he escorted us for a mile or so toward it. At the junction, he said to go up 2-3 miles, to 104, and ask at the Gas Station there. It was twilight by that time, and I wished that the map had marked the motel as off-route.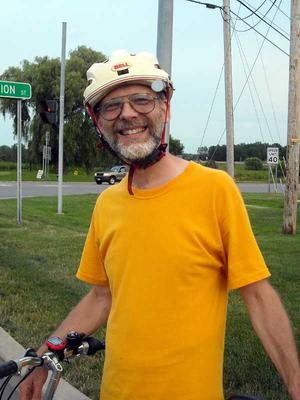 Darcy had been right – I think we should have stopped at Brockport.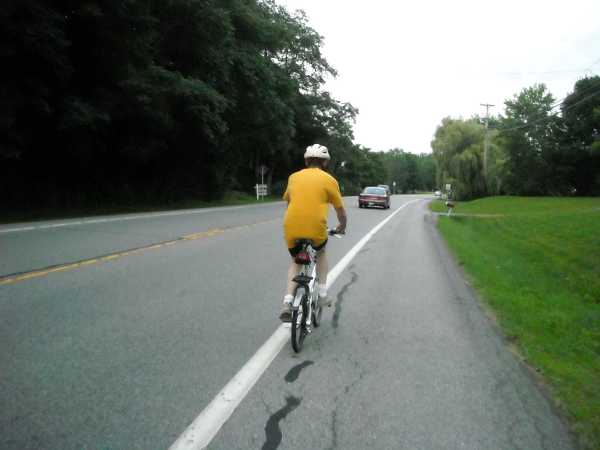 The map said that there were two motels, but one of them had closed down. There was only the Friendly Motel. They had Wi-Fi, which I'm on right now. John at the office said it was lucky we arrived when we did, as there was some sort of festival at the canal on the weekend, and he was likely to be full. For $50 plus tax, I counted the room as good. Warning to cyclists, Ridge Road is highway 104, and the motel is off route. And all the rooms at the Friendly Motel are smoking. Elliot coughed when he first entered the room. We turned on the A/C (set at 73 degrees), not to cool the room, but to filter the smoke.
I went to the broiler a few doors down, but by then, it was past 9, and they had turned off all the equipment. I inquired about other nearby food, and they said there was a Chili's two stoplights down the road, less than a mile. It was actually 1.5 miles, by my cyclometer. Darkness was falling, but I had a headlight. At Chili's I was directed to the bar for takeout. I asked the bartender whether they had any Chicken Enchilada soup left, and she said yes. She put in the order and swiped my card. Then I waited. And waited. After what seemed like 40 minutes, someone who looked like a manager came out of the kitchen and advised me that the Enchilada soup was still frozen, but she could give me an alternative soup, and not charge me for it. The two soups left were Baked Potato and Chili, so I took the former. Since my card had already been charged, the manger gave me a $5 gift certificate. I informed her that I had also ordered an Asian Salad, and she straightened out with the bartender where that was. On the way back, a car honked at me, in spite of my headlight.
I got back to the room at 10:12 pm.
Miles for the day: 64.7