July 21, 2010 7:46 pm
This morning, we set out looking for the Dad's diner recommended by Milica had recommended. We got lost, but the gentleman below helped us out. BJ turned out to be a former cook at Dad's, but had moved on to a well-known Italian restaurant in town. He said that the restaurant was a hole-in-the-wall, and doesn't even advertise. It used to be called Simon's. Not only did BJ give us directions, he walked almost two blocks with us to show us the way. He was supposed to be married on the 18th, but had to go to court, instead. We wish him well.
Dad's was an unassuming place with good prices. There was construction going on nearby, and the construction workers were coming in to order things. Our server, Janice, was always on the move, but never too busy to smile or ask how someone was doing.
We went back to the Motel, and were right on schedule to check out before 11, but I got caught up visiting with Ray and family. I'm pretty sure he said his name was Ray, because I spelled it out to confirm, but when I checked their website, it said Rod. It was intended to be a short day, anyway, because we wanted to ride the Maid of the Mist, a once-in-a-lifetime experience, at least for me. Perhaps Elliot will get to do it again, if he has children someday.
The Maid of the Mist (MM) was very reasonably priced – $15.60 Canadian per person. We got rid of our Canadian cash, leaving less than a dollar to carry back. No reservations necessary. We snaked our bikes down a maze of ramps with the rest of the cattle, and took elevators down to the dock. As even wheelchairs are not allowed aboard the MM, we parked our bikes on the dock where people put their strollers, and took our valuables in our front packs with us. I judged the risk to be low, as the only people on the dock were the staff and those who had paid to ride the MM.
We just missed the boat as it was leaving (there are like 6 of them, I think), but that only meant we were first in line for the next boat, and got the best spots on top deck, starboard side.
The MM is totally worth it. There are about 6 other major attractions relating to the falls, but if you see only one, I recommend this one.
Instead of taking the obvious Rainbow Bridge, the Adventure Cycling route went over the Lewiston Bridge, and said to ride with the traffic. It was a long, circuitous approach to the bridge, perhaps 5 to 7 miles. I'm not sure why there wasn't a more direct path. We got to this highway entrance below, and I struggled with whether the sign meant no bikes, or no walking your bike. I decided it meant the latter, and trusted Adventure Cycling.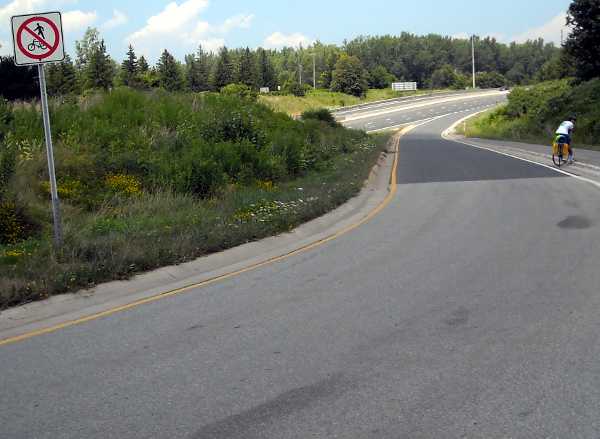 My plan was to stop at the first restaurant once we crossed over into New York, but we saw none for miles and miles. This fruit stand was the first food we encountered.
We passed through the Tuscarora Indian Reservation, and had lunch at this place. A full size Philly steak was $8, with no tax. We each had half; it was large. The meat was shaved thin, not like the Roast Beef slices that many places in California puts on a bun and calls cheese steak.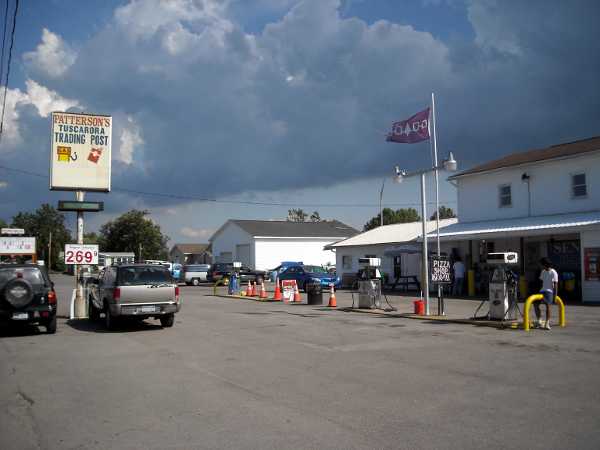 Around Cambria, there were some girls selling lemonade. It was a mandatory stop.
In Lockport, we had trouble finding the motels, but with the help of locals, located some. We're staying at the Comfort Inn. I had hoped for a first floor room, but the woman at the desk said that all the non-smoking rooms were upstairs – they liked to segregate them from the smoking. Nevertheless, on the way to room 286, we went through a corridor of non-smoking rooms on the first floor, with "no smoking" plaques firmly affixed to their doors. I would have preferred that the desk clerk simply tell me that there were no more rooms available on the first floor. The facilities were nice, but not a good value for the money, at over $100 when tax was added.
Elliot wasn't very hungry, so we simply heated the soup we bought previously in the room's microwave. I went to the laundromat to attempt washing our clothes, but found that the place closed at 9 pm. Right next to the laundromat was Mighty Taco, so I got us some supplements to our dinner.
Mileage: 44.4