July 26, 2010 11:41 pm
Breakfast was decent at the motel.
After we left and headed down the street, we saw about 7 more motels within blocks. We had only seen the 3 the previous night, due to the darkness. It seems that we picked the most expensive motel in town. And yet, I didn't feel cheated. I would have felt bad at $135, but $115 was fair for a premium motel.
Thendara/Old Forge was a real resort area, so had a well-stocked bike shop. We got Elliot a replacement helmet mirror, as his had snapped off a few days prior. We also got a set of toestraps. The one I had patched would probably have made it to the end of the trip, but better safe than sorry.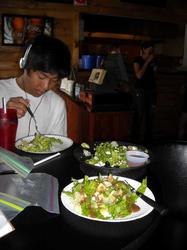 I asked Elliot whether he wanted to have lunch in town. It felt to me like we had just eaten breakfast, although it was noon by then. He said he was a little hungry, so we went to Tony Harper's Pizza and Clam Shack. Our server Bethany, had broken her arm in a fall. Three more weeks, and the sling would come off. We ordered a small House Salad, which was not small at all. We shared it. There was also Shrimp Scampi Pizza on the menu, which I had never seen before, so we got one of those. The salad was loaded with bleu cheese, so was filling in itself. I had 2 slices of pizza, and Elliot ate the remaining 4.
The scenery was beautiful, but pretty much the same for the whole day. Flat to rolling terrain, with shade about half the time.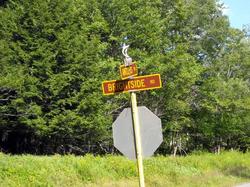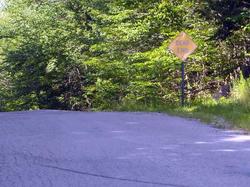 Late in the afternoon, I turned into Raquette Lake. After we passed through the tiny town, Elliot said he was feeling a little hungry. It was 13 miles to the next town, and he said he was fine with that. But then, the road stopped matching my map. It seemed that Brightside Road was the larger road, so I considered taking it. Think about it, how often have people said, look on the Bright Side? A few feet down the road, we saw the second sign. It was God nudging us to go back half a mile into town to get a snack.
The store featured fresh-baked breads, cookies, and muffins. See if you can find the fly in each. There weren't many flies around, actually, just a few in the case. Elliot got a cookie, and I got a muffin.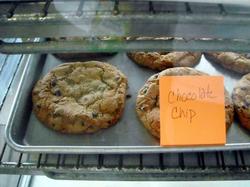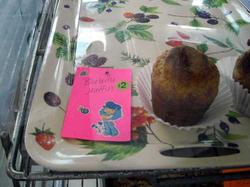 Outside the store, I met Tom and Pat Schnepf (the 'p' is silent in their German last name). They were from Atlanta, GA, and visiting the lake on vacation. Their son Drew, Daughter-in-Law Kristin, and granddaughter Gabby sat down a few minutes later. Tom and Pat actually have 5 grandchildren. I gave them a card, which one year old Gabby, a bright and inquisitive baby, thought would be a fun toy to put in her mouth. She got a pacifier instead.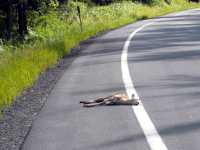 We passed a dead fawn right in the bike lane near Blue Mountain Lake. A minute later, Elliot cried out in pain. He said it felt like a pliers pinched him. I looked up and a HUGE deer fly was buzzing around his back. It was brownish-orange, the same color as a deer, and it seemed to be about the size of a bumblebee. This monster was buzzing around, keeping pace with us. Elliot stopped flailing his arms around his back, and it landed on his left shoulder. I told him not to stop waving. The fly took off and started circling me, but we sped up and left it behind. A smaller fly bit me on the left leg shortly thereafter. We stopped to put on repellent.
As we approached Long Lake, we started to see motels and cottages lining the highway – some with vacancies, some with none. We continued on into town, and came upon the Corner Motel, which seemed just the place.
I met the proprietor of the Corner Motel, Fred Wilson. He was 87 years old, and legally blind (macular degeneration). Even so, he was still running the motel, all on his own. His wife passed away 3 years ago, and he said he missed her dearly. The cards on the counter still say Marge and Fred Wilson.
He had a video magnifier to help him read things, but knew all the buttons on his charge card machine by heart. The credit card company was going to do a mandatory replacement of the machine with something simpler, which was unfortunate, because he knew his existing machine well, even if he had to manually dial the card company every time.
Fred was a bomber pilot in WWII. At the time, he had 20/10 vision in one eye, and 20/15 in the other. It saved his life on more than one occasion. He ran missions in the Aleutians, then he and his friends decided all the excitement was in being fighter pilots, so they went to California to train. When they were deployed, they were surprised that they were going to England, and not flying fighters, but B-17's. The missions that early in the war were hard, because they didn't have fighters to protect them. At the time, the fighters didn't have the range to get all the way to Germany.
He was the last survivor of his group, but the 100th airborne still had reunions from time to time, the last about 15 years ago. Luftwaffe pilots were invited too, and everybody got along. There were no sides, anymore.
His friend wanted him to speak at a community group, but he refused. He said he had spent the last 66 years trying to forget the war.
Germany was still the most beautiful country in the world to him, and he had been all over the world. He loved the food, the people, the culture. He said that there are very few German alcoholics compared to the US, because they sip their beer over hours rather than chug it like we do. In the background of the office, there was even German polka music playing.
After the war, there was a deluge of pilots, so he couldn't get a pilot job. He got into trucking, but it was hard on his wife, as he was away from home for long periods. Finally, in 1978, they took over the Corner Motel, and he's been there ever since.
Last winter, a hiker dressed only in summer clothes came up to the motel during an unusually cold early fall. Fred had arctic survival training, and recognized near hypothermia. He told the man to go straight over the #4 and get in the shower, they would talk about it later. The man turned out to be writing a book on hiking around the country, and showed Fred his rough draft. The book is supposed to come out in a few months, and is dedicated to Mr. Wilson, the man who saved his life. The man wanted to pay Fred for this trouble, but Fred refused. It was an emergency, he said.

He gave us the "family room" with 3 queen beds for the price of a double, just $64.20 including tax. This was a bargain in a resort area. There was no Wi-Fi officially, but we found 3 unsecured access points from the room. There was no air conditioner, but it would have been unnecessary, as the temperature around the lake was absolutely perfect. I rode 400 yards into town to get some dinner to bring back, and when I returned, I met Camilla from Denmark, who was staying in the room next to us. She was reading a book, enjoying the last bits of sunlight. I would guess the temperature was about 70 at the time, which she didn't consider cold. For a few months, she was in the US on a program to learn about organic farming. It was a volunteer program, but room and board were provided. From time to time, she got a few days off to travel, as she was doing now. She also said the people she worked with were fabulous. What an adventure! Camilla was also a cyclist, having biked around New Zealand and Tonga previously. She thought it would be cool to do the USA at some time.
Mileage: 50.0