July 23, 2010 11:55 pm
This was one of the harder days for me. In the morning, it was raining.
I thought we could save 20 miles by staying on highway 104, instead of getting back to the official route. Phil told us that he was planning to take the canal path trail through Rochester, as he had heard it was paved, and that 104 sucked, besides. We said goodbye to him, and headed off to a McDonald's on 104. The McDonald's was more like a living room than a fast food restaurant. When we had just about finished eating, Phil walked in. He had seen our bikes, and wanted to tell us that he confirmed with the motel manager that we should not take 104. But I was thinking, how bad could it be?
104 became an actual expressway, where bikes were prohibited. I'll need to notify Adventure Cycling – they should advise of this on the map. After we exited 104, I had trouble figuring out which way we were going, as the sun was obscured by clouds. I saw a sign that said "bridge," so followed the road to there, knowing that there were only two bridges crossing the river, and that one was the expressway. After crossing the bridge, I turned off into a downtown area to ask for directions. Several people were having a discussion outside a store, so I engaged them.
One of them, a man named Dale, asked where we were headed. When I said "Pultneyville," 1-2-3, they all simultaneously gave me a look that said, "you idiot, you're WAY off." Dale said I was headed the wrong way, but he would go inside and draw me a map. Pultneyville was far.
Dale was apparently the owner of the store, called the 7-day Flea Market. It was quite unique, part thrift shop, part dollar store, part antiques. Elliot got some souvenirs. There was a gold locket from the early 20th century, with a swastika pattern on it. Only $10. Dale said that it wasn't Nazi, because it said "patent" in English on the back. The symbol was a good luck talisman before the Nazis took it. The trouble is, if we gave it as a gift to anyone, they couldn't wear it, because people would assume it was Nazi.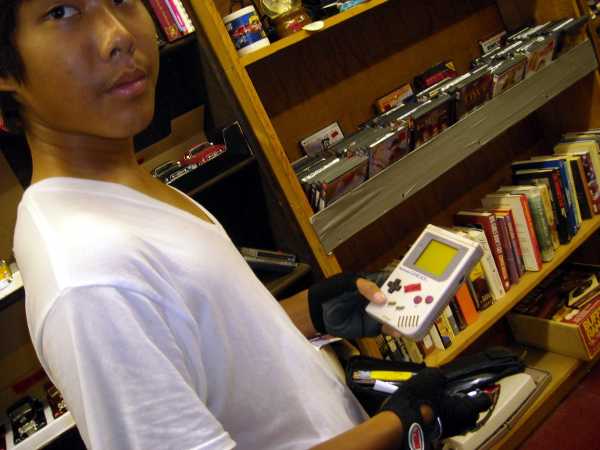 I gave some cards to the people, and asked if I might take a picture. Dale's daughter was there, and literally ran away. I don't know why some people are so shy.

Dale spent a lot of time drawing a good map. We had to go back over the bridge, though Rochester, so stopped at Salvatore's Pizzeria for some lunch. By the time we left, it was 4 pm. Dale's map got soaked in the rain, and a corner tore off when it pulled it out of my front pack, so I took this picture of it.
We easily followed the map, and got to the other side of the river, taking highway 404. That was an ironic designation, considering that on the internet, 404 is what you get when you're looking for something but lost. At Webster, I saw a sign that pointed to route 104 – hopefully, the old 104, which does allow bikes. We followed that for about half a mile, but came to a 104 entrance that said bicycles were prohibited. It was still the Expressway. We had to backtrack. A mile or so down the road, there was another sign directing us to 104. I ignored that, waiting for highway 250, which Dale told us to take up to the old 104. Unfortunately, even 250 led to the expressway. But since there was a bike path paralleling the Expressway there, we followed it. I was hoping that Expressway 104 would turn into Old 104, and we could hop on somewhere down the road. We ran out of bike path, and it was still Expressway, so I decided we should turn north on Salt Road, and try to get to the shore of the lake.
It might have been 10 miles, but I was overjoyed to see Lake Rd, which was on the Adventure Cycling map, although not part of the route where we were. By that time, it was 5:45. By 6:45, we reached Pultneyville (actually signed as Williamson), and were once again on the official route. There was a B&B in town, according to the map, but Elliot said he was willing to go another 10 miles to Sodus point, where there was supposedly a hotel.
We passed a Nuclear plant along the way. I had to read the sign twice, because it didn't seem like a reactor at all. When we rounded the bend, I realized that this was just the road leading to the plant in the distance.
We reached Sodus Point around 7:45, and passed this house.
We called their number, 315-483-9600, and got an answering machine. I left a message with Elliot's cell number, and we continued to search. Just down the street was the Carriage House Inn, a nationally recognized B&B.
The Carriage House was $135, but a $10 discount was given for cash, which we had. $10 of tax was added back in, so essentially, by paying cash, we didn't have to pay tax. After we checked in, Elliot realized that there was a message on his cell phone. Elaine from the Reel Inn had called back, and had space. Just missed her. Note to cyclists: call ahead a few hours to be sure.
Mileage for the day: about 63 (can't tell, my bike is in the garage at the Carriage House Inn).