July 5, 2010 9:33 pm
It stopped raining last night. This morning, we left the Motel before 10, because there was neither internet nor breakfast. We headed for the breakfast place in town, only to find it was closed on Mondays. Around the corner was a cafe, but that had gone out of business the previous year. So we just ate whatever we had on hand – Elliot had a piece of leftover chicken, and I had some trail mix. After syncing to the internet outside the hardware store, we hit the road.
A few miles down the road in Nelma, we stopped at the Brule River Tap for sandwiches. It was the third bar in a row that we ate at. There are not that many restaurants in the north woods, and usually they are bars.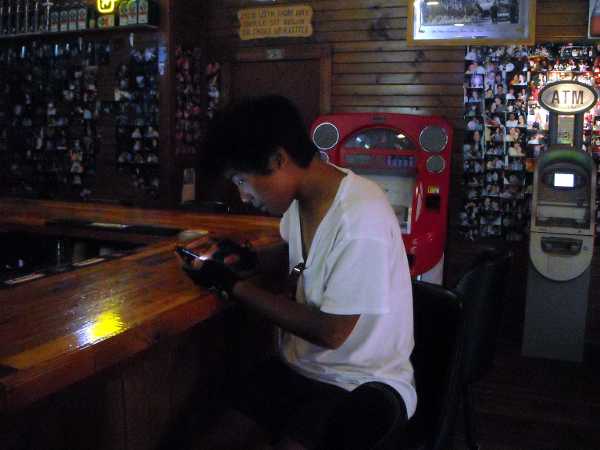 The bartender put on the weather channel, and told us that it looked like rain coming. After we left the building, as if on cue, the first big drops started to fall. Remembering what happened to my cyclometer the last time, I put a plastic bag over it, and secured it with a tie-wrap.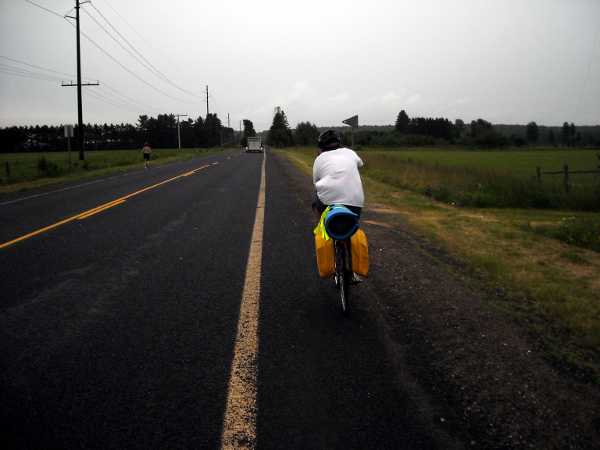 It was 30 miles to Crystal Falls. We stopped at the IGA supermarket to get some food. The next stop was at CoVantage Credit Union to get cash.
After that, it started raining hard. I couldn't find highway 69. We went away from the main strip to a thrift shop, and the lady there told us how to get to 69. It turned out to be the main street that we were on previously. The lady said that we were not the first cyclists that had come by. Two girls from California had stopped at her place the previous fall. I would have liked to visit more with her, but I was dripping wet, and we had miles to make
I got my second flat of the trip on the road, in the rain. Same front wheel, but a brand new tube. At least it was the front wheel, which is much easier to access. I swapped in a new tube. There don't seem to be thorns in this area; the predominant hazard is the grape-size gravel on the shoulder of the road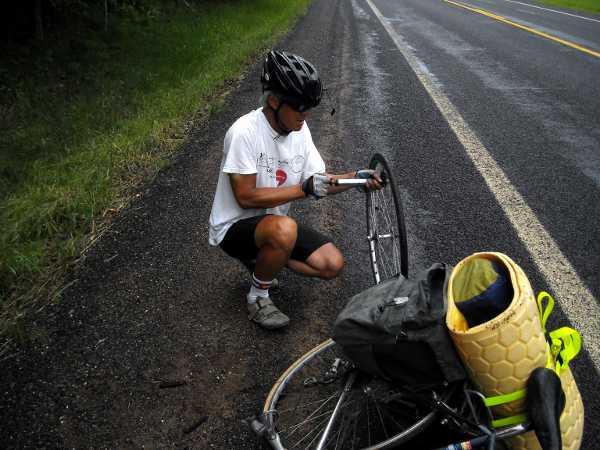 Michigan street signs suck! Not once did I see a highway 69 marker all the way to Sagola (seh-GO-lah), and that was a distance of some 20 miles. As soon as we hit town, Elliot spotted the Motel. It wasn't obvious to me.
Bob and Kris Cary told us to just go into room 2 without checking in. They treated us more like house guests than motel patrons. I went into the office anyway to sign in, while Elliot went into the room. Bob gave us some extra towels to dry off with. Kris checked me in, and I was surprised to find out that the room was only $37 including tax. Cold and soaking wet, I would have paid a hundred!
Kris offered to take our wet clothes and put them in their dryer. I only gave her the most critical. There was no laundromat in town. No Wi-Fi, either. I should have taken a picture of Bob and Kris that evening, but I was soaking wet and trying to sort out the waterlogged an non-working phone and camera. Bob went to work at 4:30 am the next morning, but at least I was able to catch Kris. Even though she had a washer and dryer, she was driving to the laundromat in the next city, so she could do all the sheets and blankets at once.
We did 60.7 miles that day.