July 24, 2010 10:12 pm
This was the first B&B that we stayed at. The hostess, Vivian, cooked ham and eggs to order. One of the highlights of a B&B is meeting the other guests at breakfast. The first picture is Bill and Holly from Buffalo. They're just taking a few days off. In the middle picture, from left to right, Lynne and Art Serig, myself, Cheryl and Ed. All four of them are from Miami, and came up to escape the heat. In the last picture, our hostess Vivian in the flag shirt, and her sister Beverly (Bev), who is visiting.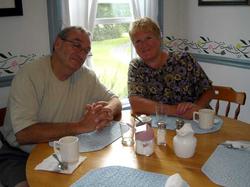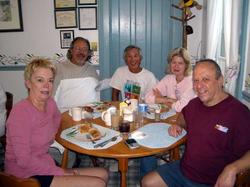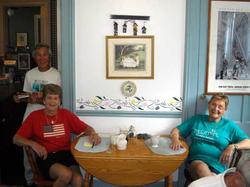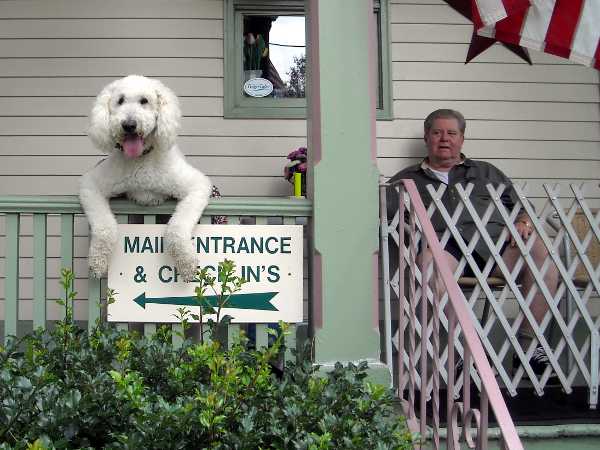 The day was hot and humid. I thought about those 4 people from Miami at the B&B, and their lack of success at escaping the heat. Although the thermometer only said low 80's, the lack of wind and humidity was a killer, Elliot said he had not sweated so much on the entire ride. I concurred. We stopped at a country market at the top of a hill, and got cold drinks, and tree-ripened peaches.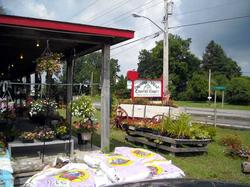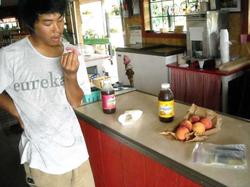 Our lunch stop was Fair Haven. Going down the street, I saw the Hardware Cafe. Since I'm a Hardware Engineer, it seemed very appropriate. It was a converted hardware store that had fine coffee, ice cream, and yes, Wi-Fi. It was very California.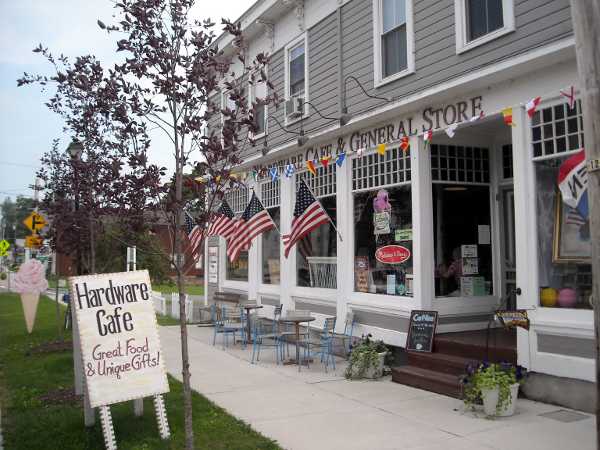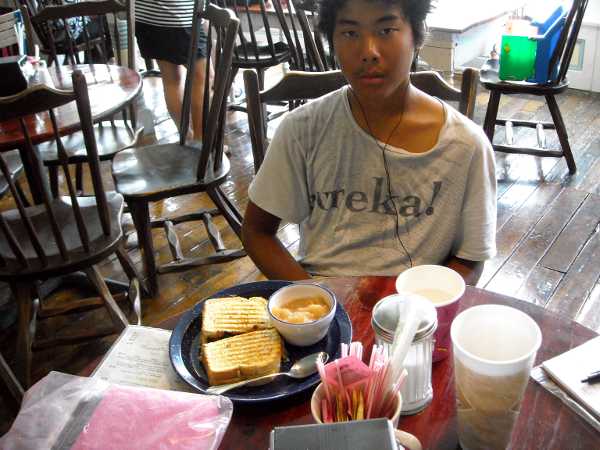 Our server was starting to feel tired, as she was ending her shift. I got an iced mocha, and a bowl of Gazpacho, the first I'd seen offered on this ride. After she left, Rhiannon took over for her, but told me that her name was Britney. We also got some souvenirs from this store.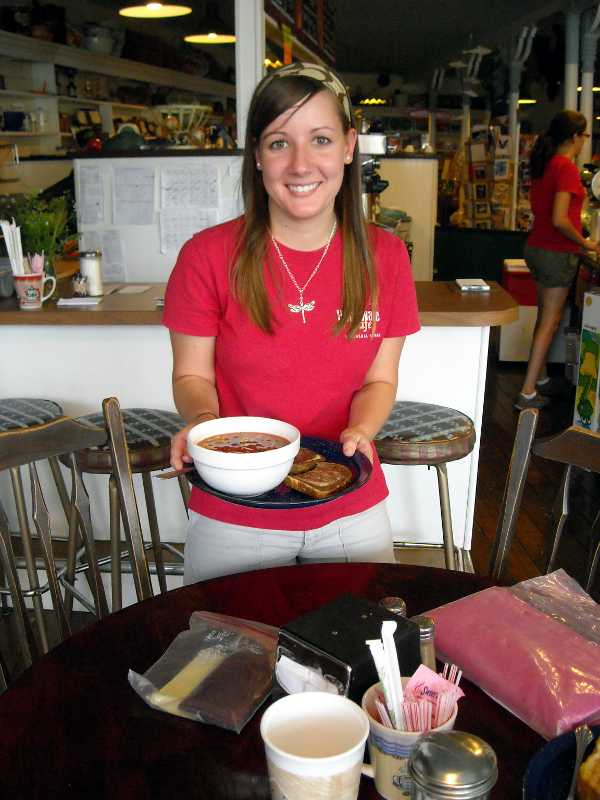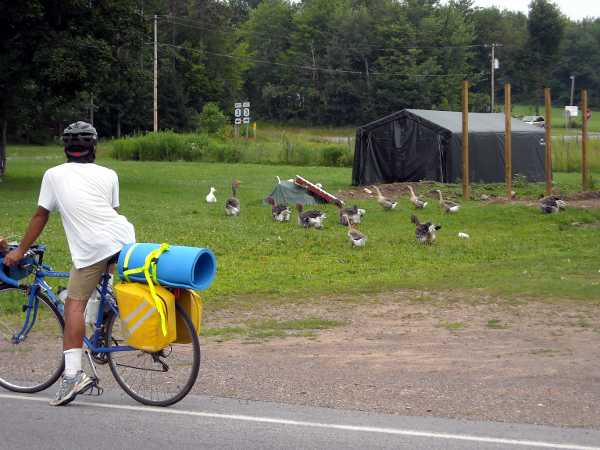 At New Haven (New York, not Connecticut), there was road construction and we had to take a detour. I just couldn't find route 104B. So I went into the first place that seemed open to ask. The friendly folks at Hazzy's were more than helpful. Bartender Kasey gave us a couple bottled waters and refused to take money. I got a chance to chat with the other people there for a few minutes, and passed out a few cards. Thanks for the directions, you guys!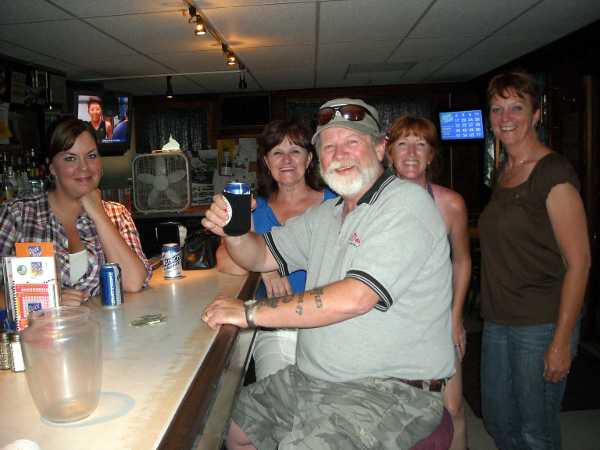 As we left Hazzy's, it was starting to rain. We reached Port Ontario, and saw a motel with the vacancy sign up, but decided to travel the few short miles to Pulaski (pull-ASS-sky), where there were several motels. It was pouring rain, and near sunset, when we arrived at the Super 8. All full, except one smoking room for $145. Elliot went across the street to Arby's, while I mulled our options. Christie (who had a charming accent like Fran Drescher, The Nanny) at the desk had just called the Travelodge on behalf of some people on motorcycles, and they had taken the last room there. I asked about the Fishing Lodge, but she had never heard of it. I gave her the number and she called. Packed full. The closest thing she could find was a campground down the highway. The address of the Super 8 was 43xx, and the Stony Pineville campground was at 2904. She called but there was no answer. I decided that it would be better to head for the campground, even in driving rain, rather than circle around and around in the dark hunting for a motel.
I went across the street to join Elliot, and dripped a trail of water all over the tile floor. The A/C was cranked up high, and I was soaked. There was a hot air hand dryer in the bathroom, and that helped a little. I ordered a Beef and Cheddar, and the girl at the register rang up a senior discount for me. It's true that I'm over 50, but this was the first time that I had ever gotten a discount without showing ID. Elliot was talking with Jake, a worker there who was having his dinner. Jake said that Harborfest had likely filled all the accommodations, and that we might have better luck down the road at a neighboring town. As it was almost dark, I decided this was a bad idea.
Katie, another worker there, came over to ask us about our trip. She was the same age as Elliot, and had just started at Arby's a few days ago. Sammy, a college student, joined us a minute later. We gave them cards with the url of this blog, and took their picture.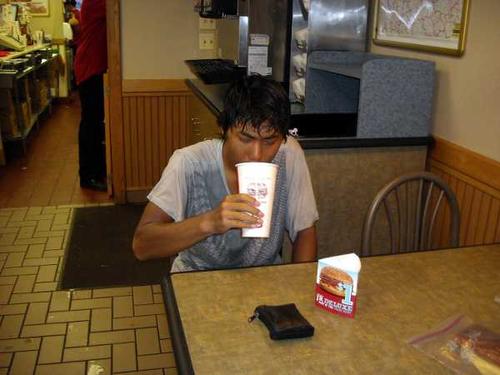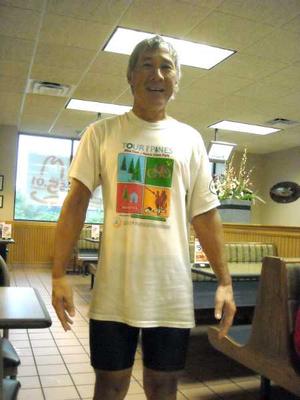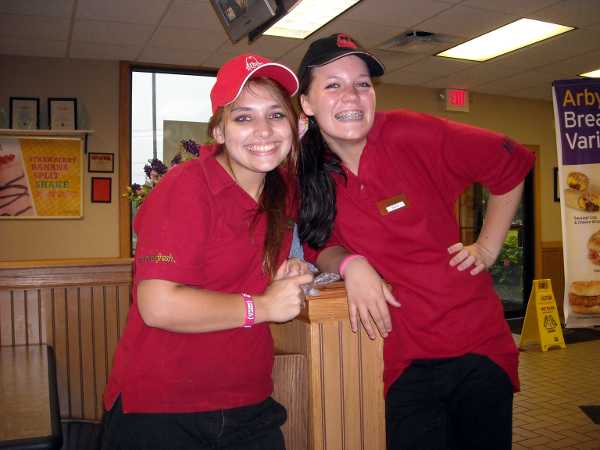 I found out later that Elliot had gotten the senior discount, too, because he was drenched and the girl felt sorry for him. I guess he actually is a Senior. In High School.
The problem with getting even a little warm is that it's worse to go back into the rain, which is exactly what we needed to do. We went down the highway, and saw this sign. It said Open All Year and Vacancy.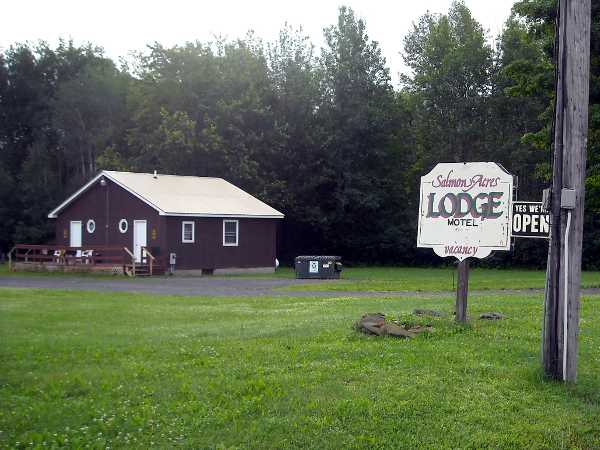 There was no one there. On the office, there was a sign with the number to call. Unfortunately, the cabins there didn't even have overhangs on the eaves, so I couldn't even keep the cell phone dry when calling An answering machine picked up. My theory is that all the lodges that were normally open closed down so that people could go to Harborfest.
Remember the story of Joseph and Mary getting turned away at the inn in Bethlehem? No touring cyclist needs a sermon to explain it. We all understand.
The campground was still distant, but we came upon a place that looked like a motel, but deserted. It was our stable. I went up and called out, hoping someone would be around. No one. It was a tough decision to stay there without permission, but I figured that if anyone asked what we were doing, I'd say that we were near hypothermia, and needed shelter. There was a concrete pavilion there, that even had grills for charcoal. There was even an electric outlet, but I was determined to leave no trace, down to not drawing any electricity, nor even leaving trash in their dumpster.
It was hard to move, as we were so cold, but I got the tent set up, and miraculously, we each had at least one set of dry clothes. The plastic laundry bags had done their job! Elliot crawled into his sleeping bag almost immediately. We killed a few mosquitoes in the tent. I set up my camp stove on the charcoal broiler, and made some hot tea. Elliot didn't want any, so I drank both cups. I spread out some of our things directly on the concrete to dry. There was no wind, so little possibility of anything blowing away, The rain continued for some time. There was no internet access, of course. I did a little blogging, but went to sleep early.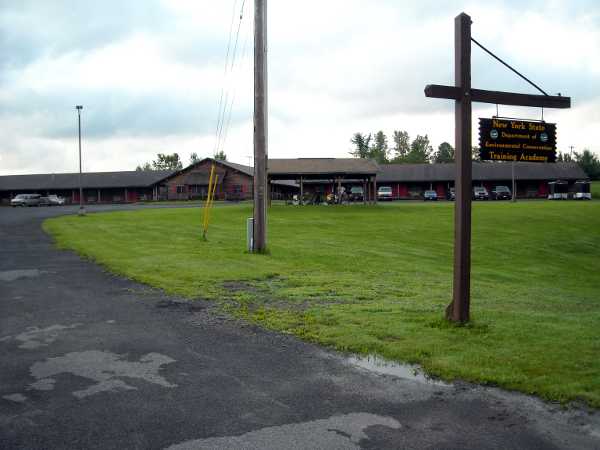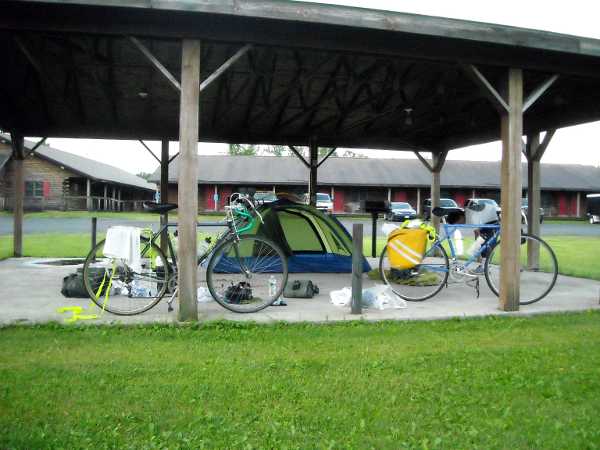 Mileage for the day: 68.5