July 26, 2010 1:05 am
Yesterday morning, we woke up at 6 on account of the hard ground and wariness that someone would come and kick us off our campsite. No one ever showed up, although many cars drove by on the highway. Perhaps the Academy was not in session. We got out of the place at 7, and got some breakfast at the Dunkin Donuts in town. We were told there was a laundromat down the street, so we got our food to go. It would not have been a normal laundry day for us, but we wanted to dry out our clothes. There were tons of flies at the laundromat. I caught a few and put them outside, but realized it was a lost cause after a few minutes. They were not biting flies, so we simply shooed them from our food. The place could really have used a flypaper strip.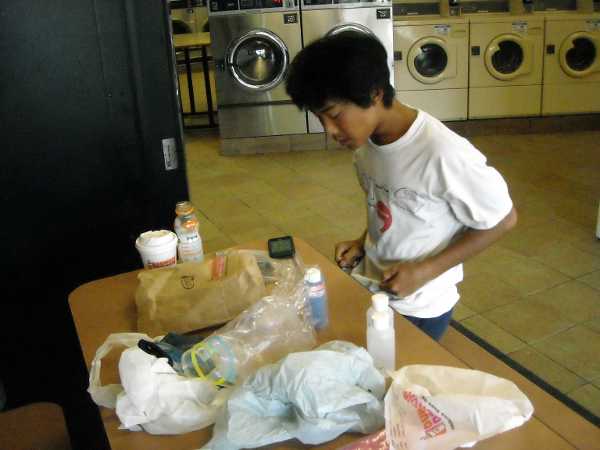 At a table in the laundromat, I was updating our blog. There was no internet access, unfortunately. As I was working, another cyclist walked in to do his laundry. Peter O'Keefe was from LA, but started from Buffalo. He was headed to Boston, where his daughter was in a community theater production. His wife was not with him; she would fly and see the show later. I noticed this pattern, that wives don't seem to come along. Bev back in Dunsport was the only one. Merrianne (my wife) would probably have hated yesterday, come to think of it.
We finished laundry at a reasonable hour, and headed onto main street. Since we were off route, I stopped at the curb to try to figure out how to get back on track. A man in a lime green Pearl Izumi jacket walked up. I knew he was a cyclist. Pete (not to be confused with the Peter we just met) was a retired NY State Trooper, and often did rides in the area. He said that all we had to do was turn right at the intersection we were at. That would have taken me a while to figure out, because Maple St was not marked as route 2. He said that there was a wonderful country restaurant in Orwell, and that our biggest climb was just after that.
The morning was cool, and the hills rolling. At Orwell, we found the Village Restaurant.. It was barely 11, and we would not have stopped had Pete not spoken so highly of it. Inside, Teresa was the waitress. A fun and warm woman, she greeted everyone that came in by name, and sometimes with a hug.
As we were about to leave the Restaurant, we met Neil. He was from Roseville, near the twin cities of Minnesota. He had taken the train to Toledo, OH, then started his ride from there. Baggage charge for a bike on Amtrak: $5. Like the guy Phil we had met earlier, Neil's plans were to go to Ticonderoga, then cut north to Montreal. At the time we met him, Neil had already logged 40 miles in the morning (we had done more like 15). His target for the day was Boonville, 31 miles away. That was our stretch goal. Our fallback city was West Leyden, which was somewhat closer.
I recommended the Hot Turkey Sandwich to Neil, and we said goodbye.
We stopped at a gas station in Redfield to refuel at 1:30. Outside, I discovered that there were electric outlets (maybe people plug their cars into there in the winter), so started charging Elliot's exhausted iPod. I was surprised to find an active Wi-Fi access point. The gas station is apparently also the Reservoir Inn and Restaurant. I did a partial update of the blog. When Elliot came out, he burned the entire few minutes charge on the iPod checking facebook. It was dead again when we left. Neil pulled up as we were leaving.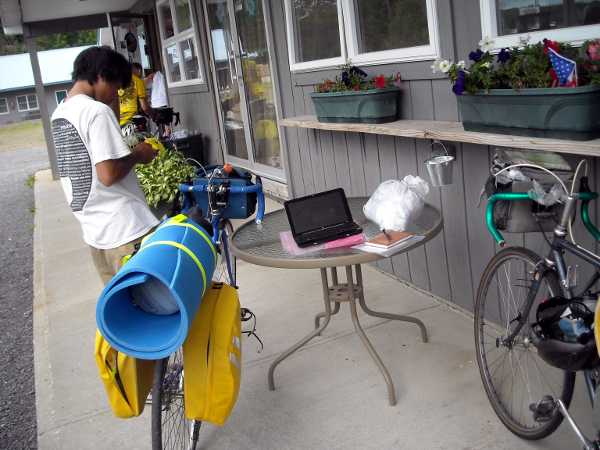 At 4:30, we arrived at West Leyden, our easy-day goal for the day. It was clear that we could easily make Boonville, just 6 more miles. But another possibility presented itself. Should we go for Old Forge, 36 miles away? Neil pulled up, and said that he was definitely stopping at Boonville. In the gas station, the people told me that the road was much of the same ahead – rolling hills. Highway 28 was high traffic, but probably not on a Sunday evening. And there was a good shoulder. Elliot wanted to make miles, so we went for it.
Fortunately, it was not raining, and not hot. In fact, as we got near our destination, it started to get cold in a few places. We didn't bother to stop to put on jackets, though. Highway 28 turned out to be absolutely smooth, with a wide shoulder. We got into Thendara, just before Old Forge, right around dusk. There were 3 motels clearly visible. Can you guess which one was the only one with vacancies, and likely the most expensive?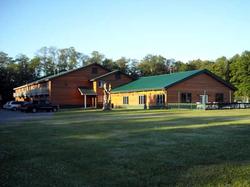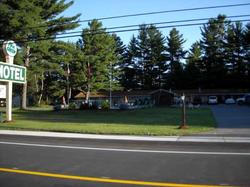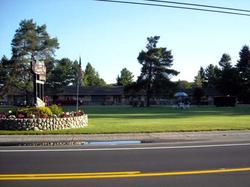 The Adirondack Lodge was nice, and we got a slight discount at $115 including tax. It was 8:40 and dusky. Even though Old Forge was just a couple miles away, I didn't want to fuss with finding another motel, or the KOA there. Just a quarter mile away, there was The Steakhouse. We raced over in the cold to get there before it closed, and had a celebratory dinner.
The mileage for the day was 78.5, hilly.
I'm awed by how events link together.
If we had been able to find a motel room the previous night, we likely would have had a later start.

If we had not gotten soaked, would not have done laundry.

If we had not done laundry, would never have met Peter.

Without the delay of the laundry, we would never have met Pete on the street at that exact moment.

If Pete had not recommended the Village Restaurant, we would not have stopped, and would never have met Teresa.

If we had not eaten a full lunch at the restaurant, we would never have met Neil.

Without the early start (see the first bullet above), we would never have arrived in West Leyden so early, making Old Forge a viable destination.