July 20, 2010 11:49 pm
Bev and Marc, if you're reading this, did you stop at the Flyer Cafe in the morning? If not, you missed out on the pies!
We had an easy ride to Port Colborne. The first restaurant we saw there was the Surfside, and it was our lunch stop.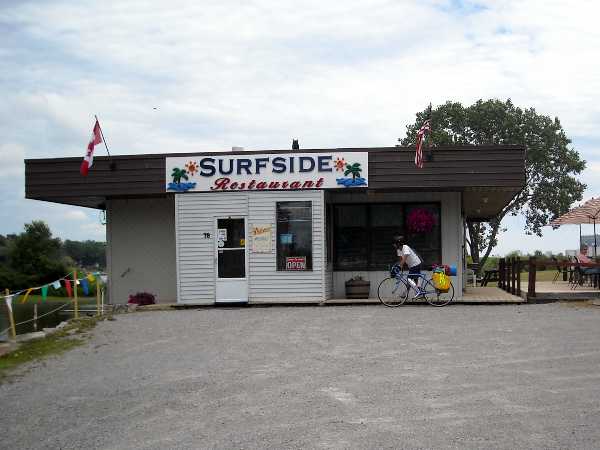 The owner was Debbie, and Cheryl (Cheryl-Lynn) was working there, too. They seemed familiar with each other, so I asked if they were mother and daughter. No, but Cheryl is a potential future daughter-in-law. I asked Debbie whether bikes were allowed on highway 3, and she said she didn't know. She said that the bike path was paved, but she didn't know how to get to it.
By coincidence, when I was at Kaimuki Intermediate School, the two cutest girls there were a couple of sisters – Cheryl and Debbie H. Eric O., do you remember? So I was compelled to take Cheryl and Debbie's picture.
We couldn't find the bike path listed on the adventure cycling map, so ended up taking highway 3 straight into Fort Erie. It was a straight shot, and bikes were fine on the road. At Ft. Erie, after a bit of searching, we turned left onto Niagara Blvd, which eventually became the Niagara Parkway. There was a bike path to the left of the street. It was paved, but I found it bumpier than the road, and there were joggers and slow bikes on the path. Traffic was very light – perhaps because of the speed limit of 40 to 60 km/h on many parts of this road.
At the falls, someone was filming a movie or something. There were production trucks lined up on the street, and the best viewing area was cordoned off. We still got some pictures in. Elliot took videos with his flip.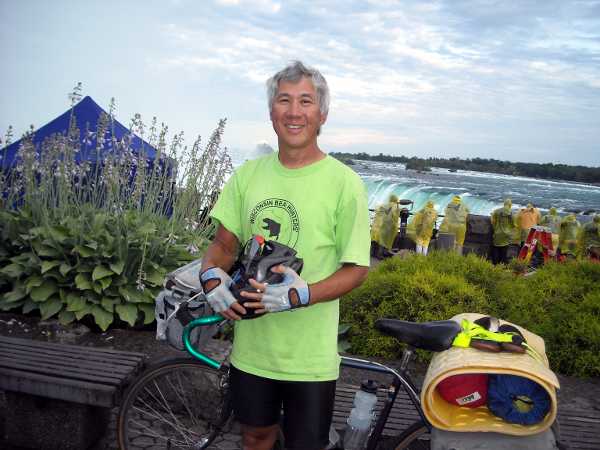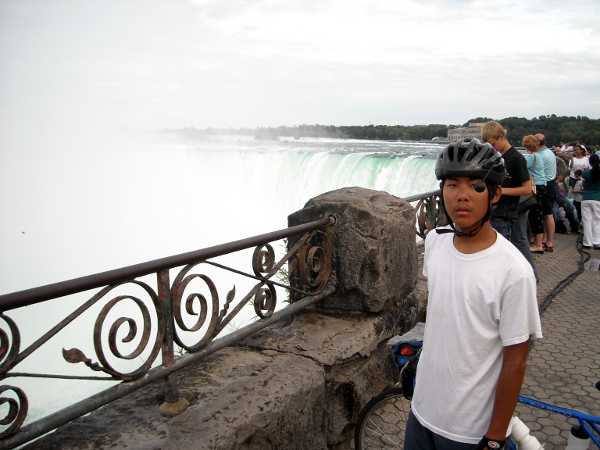 There were tall skyscraper motels near the Falls, but the Adventure Cycling map said there were other places up the road further. We continued on River Road, and after passing dozens of B&B's (no vacancies), came to some motels. The first we saw was the Riverview Motel (not to be confused with the Riverview in Dunville).
I had already prepared myself for outrageous rates. If the motel at Long Point was $139 for a 1-bed room, then the Honeymoon Capital of the World would surely be high. We pulled in and met Milica (mi-LEET-za) and her daughter Mira, Serbs from the former Yugoslavia. Mira was a school teacher, I think middle school. The next day we met Ray, the father. They had another daughter who was an RN in Toronto.
They gave us a map, and recommended places in town for food and sightseeing. We could walk to Queen street around the corner for dinner – they mentioned a Bistro, Grill and a Pizza place. Dad's (Simon's) was where the locals went for breakfast.
The room was excellent! No smoke smell, and no flies. Wi-Fi. And it had towels, lots of towels (remember, this is the Honeymoon Capital). Did I mention it was only $65 for a 2-bed? They had a 1-bed at $55, but the price was so reasonable, we took the larger room. Cyclists take note! This is the place.
We walked down Queen street for dinner. The Bistro was closing up as we passed. In fact, all the stores were closed except some restaurants. A couple blocks down, we came to an intersection. Sports bar on the right, Pizza place on the left. The sports bar looked noisy. We went to the pizzeria. I'm glad we did.
Elliot had a panzarotti, which was a good size pepperoni pizza folded over into a pocket, for less than $5. I had a large Greek salad, which actually had fancy greens in it. It was what my body needed. We also got a couple pieces of bruschetta.
At the bar, a man asked us about our trip. When we said we were from California, he said he used to live in South Central (Los Angeles). Omar Hernandez was originally from Guatemala. He and his family had to pay a coyote to sneak them across the border. Running through sewers, avoiding helicopters, the whole crazy thing. He got caught the first time, but succeeded the next. He was there during the LA riots (note his T-shirt). Now a Canadian citizen, he works in recycling and amusement.
Mileage for the day: 62.3