July 1, 2010 5:58 am
Yesterday, as we were packing up outside the Ambrose Motel, I met an interesting woman. Her name was Laura, and she was temporarily living in the Ambrose, as she was between jobs. She rode a bicycle, and seemed very much into health and natural foods. Although she had grown up in Cumberland, she sounded more like a Californian than a Wisconsinite. Laura gave us directions to a wonderful food co-op in town, right next to a bakery. I asked if I might take her picture, but she balked. She said it never comes out the way she envisions herself. Maybe she's like the salt monster in Star Trek – some kind of hypnotic screen that makes her look different. A positive attitude is always beautiful.
We rode down to the Island co-op store, and I got a pound of peanuts, and a pound of Judy's trail mix. We also got a couple items from the bakery, but Elliot felt like a hot breakfast with eggs.
Down the street, there was a Cafe called "Our Place," where we each had the Our Place Breakfast. I think we learned to always just order the biggest thing – we don't want a repeat of the hunger coming out of Osceola. I asked the short order cook / server about taking Highway 63, a straight shot into Hayward, rather than following the circuitous Adventure Cycling Route. He said that it should be fine, and that yes, there were towns to stop at along the way (important for water and food). In doing so, we would save about 10 miles of riding.
Along the way, we passed several small towns, but did not stop. We passed Shell Lake, but it was too early for lunch, so we only stopped briefly to take a picture.
We stopped at Spooner for lunch. At least I think it was Spooner. Since we were off-route, I can't check my map. It was a large town, with banks and businesses – maybe a population of 1500 or so. We went into a Thrift store there. I was looking for a T-shirt related to Wisconsin. It had to be white. I was cooking in my God Is Still Speaking shirt on account of the black picture on the back. I only brought 2 shirts, including the one I was wearing. The store did not have anything white with local content unfortunately, but had these 50-pound bags of corn and sunflower seed for sale. Corn is $8, sunflower $14. It's like a month supply of deer food, or 2 year's supply of squirrel food.
After splitting a foot long at Subway, we continued on 63. At one point, it merged with highway 53, and a sign said 27 miles to Hayward. That's when the shoulder started getting annoying. It was smooth, except that every second or two, Ka-CHUNKA, we would hit a crack. It was jarring. I wasn't looking forward to 27 miles of ka-chunka.
Remember that trail mix we got back in Cumberland? Here's what it looks like after being in a hot handlebar bag:
We reached Hayward at about 5:30 or so, and found a bargain at the Quik-Stop – pizza slices for a dollar on Wednesdays.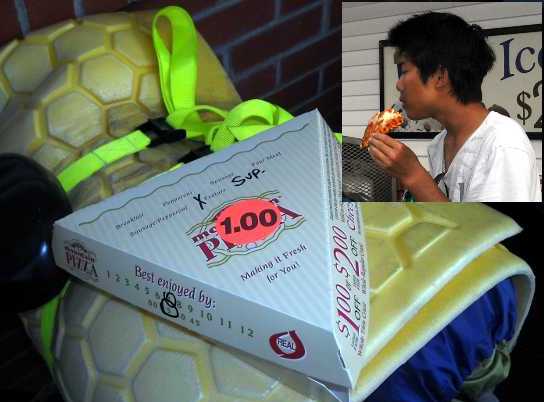 We pulled into the local KOA 3 miles north of town at 6:20 pm. We got a tent site, right next to the Outdoor Kitchen with electricity, stove and sink (it's where I'm blogging from right now). The whole campground has Wi-Fi, of course. Breakfast is being served in about 20 minutes. Maybe I'll type more later.
Okay, I'm back. This KOA is amazing. They have an Ice Cream Social every night, a giant bounce structure, gem panning, wagon ride, water slide, volleyball net, horseshoes, and a laundry. This is the kind of place meant for small kids, and in fact, it's mostly families here.
We did 55.2 miles yesterday. My odometer only says 158, because I had to reset it in Cambridge after it dried out. To get our true total mileage, add 427 to that figure.