June 30, 2010 5:22 am
I woke up at 5 am, and it was fully bright. The sun rises early as we travel east.
Yesterday, we had a leisurely continental breakfast at the River Valley Inn, I put an extra bagel into a ziploc in my front pack. I confirmed our route with Barbara at the front desk. She said that if we were going through Dresser, we might as well take 35, rather than backtracking through town and taking twisty backroads. We hit the road at about 10.
Just after Dresser on county road F, I saw a fluorescent yellow patch coming our way. It turned out to be a couple touring on bikes, also. Chris and Allison were from southeast England, and had started from Cumberland that morning, using only standard highway maps. I had no doubt that they would reach their goal of Minneapolis by the end of the day, as it was not quite 11 yet, and they were making excellent time. They were only the second group of touring cyclists we met; I thought we would see many more. I gave them a card, so Allison and Chris, if you are reading this, please comment or email with the address of your blog.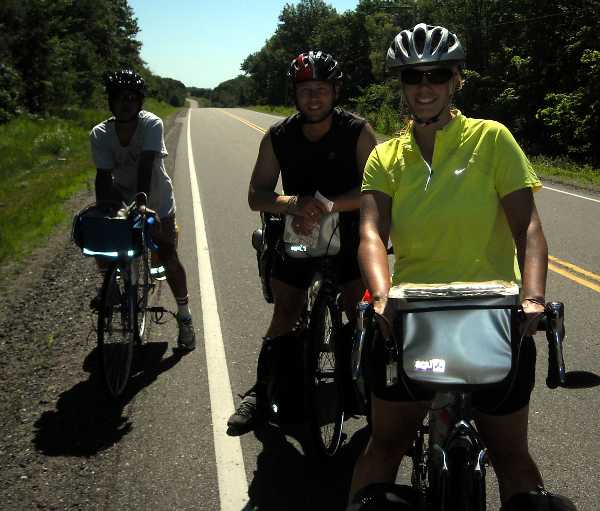 Half an hour later, Elliot started getting very hungry. Good thing I had that bagel. He also fished around in his pack and found the peanuts that we got from the plane, and a biscof. Amery, the next town, was still miles distant, and we were both ravenous when we pulled in at noon.
At the A&W there, we each got a bacon double cheeseburger meal, and we also got a side order of cheese curds – something I had never seen before. Casey, the girl at the register, explained what they were. It must be a Wisconsin thing – I've started to notice it in convenience stores, for example, and package of cheese curds and ham in a lunch size.
When we got our order, I realized that cheese curds are basically the same as Mozzarella sticks, just with a different form factor. The cheese is more springy than rubbery, and kind of squeaks when you bite it. We ate every bit, except that I packed my fries into a ziploc for the road. It was 99-cent coney dog Tuesday, so Elliot got one to put in his front pack.
I went into a nearby store to get supplies for the road, and when I came out, Elliot had just about finished his coney dog.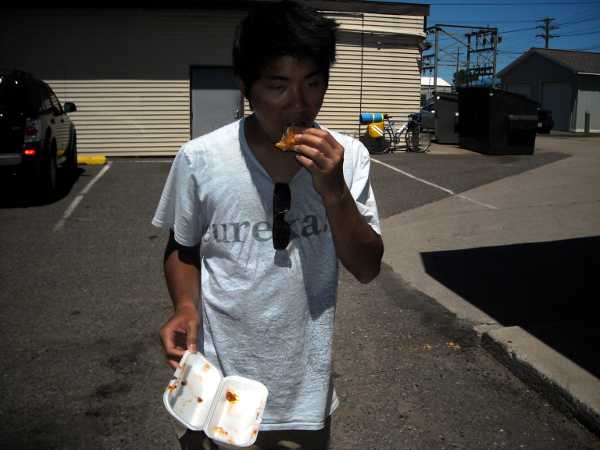 After lunch, I got lost on the county roads, and at one point we ran into road construction. We went around, but in order to stay on paved roads (not ATV trails), that means a detour of 5 or 10 miles. We arrived at the intersection of 55th Street and 70th Avenue, only to find we had just made a huge circle, and were basically in the same place, just a block from the construction. And I was confused at which way was North. My compass said one thing, but the map said another.
A few driveways down, there was a business, Central Auto Body and Towing, where a very friendly Jerry helped us out. At first, I tried to navigate back to the Adventure Cycling route, but when I mentioned Cumberland, he said we could just go up the road, and turn left on Highway 63. That's a lesson I must learn when asking natives: don't ask how to get back to the route, ask how to get to the destination.
They had a couple dogs wandering about. The chihuahua was afraid of us, but the other dog, Lincoln, was sociable.
While I was talking with Jerry, Elliot's bike fell over onto his ankle. His first accident, and it wasn't even while riding. Jerry opened his car door so Elliot could sit on the seat and look at the scrape, and brought band-aids. Jerry even offered us a ride or a soda (which they call "pop" here), and even gave us his card, saying to call if we needed anything. It was an astounding offer, only to be found in small towns. We were fine, though, and went on.
On the highway, two more drivers shouted obscenities at us. I'm at a loss to know why – we were well on the shoulder. Maybe the culture in Wisconsin is different, and it's considered fun to yell at cyclists.
We stopped at an interesting store near a lake beginning with M. I forgot the name, it was something like Margado. There was a dead mosquito in the spigot of the blue raspberry slurpy, but that was Elliot's favored flavor, so he got it, anyway,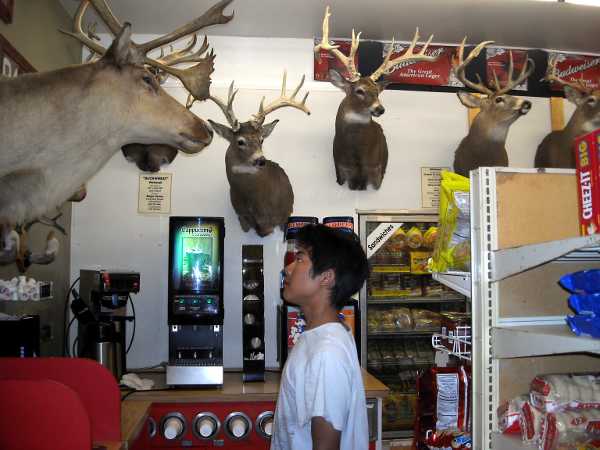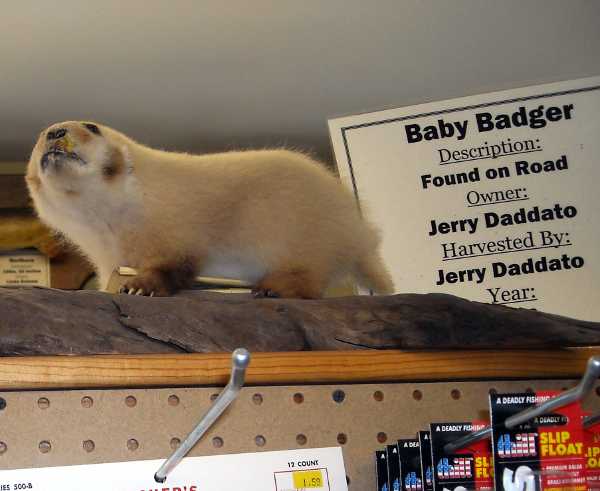 We reached Cumberland at 6:30, and stopped at a Burger King right next to the Cumberland Inn & Suites. I didn't like that word, "suites," again. The server in the restaurant said there were other motels down the highway at the edge of town, and suggested the Ambrose. I called with the cell, and found they had rooms for $49. Now that was more like it. No pool, no continental breakfast, but a room. When we got there, I found there was a room with a standard bed for $46, so we took that. It was plenty big. And they have Wi-Fi. As a note to other cyclists and travelers – don't bother bringing a modem. Wi-Fi is abundant everywhere.
Our total for the day was 59.7 miles.