June 26th, 2010. 6:40 pm
Because there was active internet, we didn't leave Larson's Barn until around 10:30 am. We rode 6 miles or so and stopped at Kelly's Kitchen, where we each had the breakfast special of country fried steak and eggs.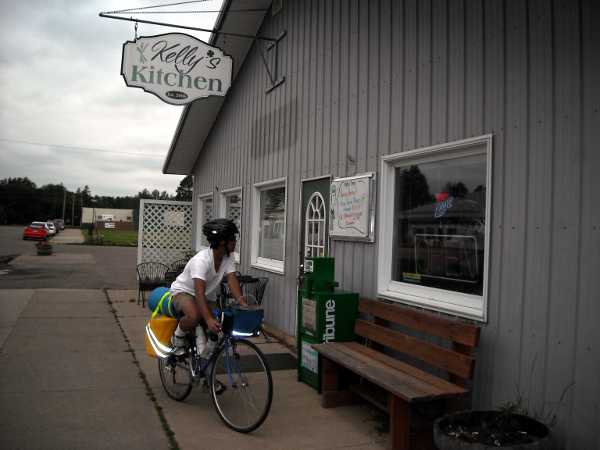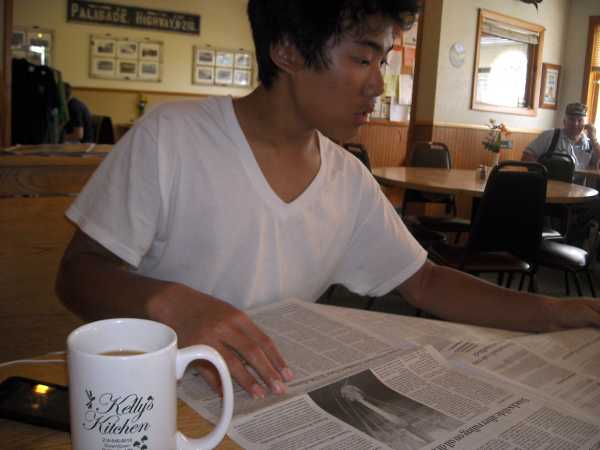 There really is a Kelly, a kind and personable woman who served us. There seemed to be two kinds of patrons in the restaurant: tourists, and senior citizens. The place also serves meals to seniors under some kind of program. It seemed they came in as much to socialize with Kelly as for physical food.
We stopped in Aitken, at our first McDonald's of the trip. Since it had Wi-Fi, I dawdled there.
At about 5 pm, we reached Glen, population 50. The GasStation-BaitShop-Grill-LiquorStore-Convenience store basically is the town. It was a step up from the usual small-town gas station.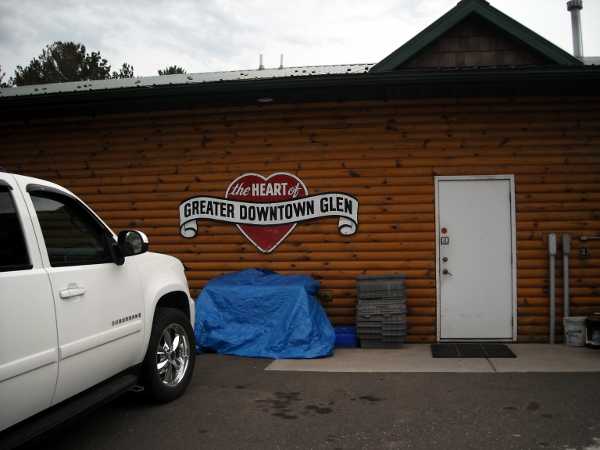 I've been meaning to ask someone what "Off Sale" means. Wouldn't you want to buy something that's On Sale instead?
Elliot was interested in a motel room, and I saw two possibilities on the Adventure Cycling map. One was McQuoid's Inn, 8 miles down the road, and the other was Scenic Bay Motel in the town of Isle, 15 miles away. After we got some snacks and supplies in the store, I inquired about motels in the area, in case there were others. The woman behind the counter, Annette, only knew of McQuoid's in the direction that we were going. She asked if we could camp too, and I said yes, it just wasn't first choice.
The battery on Elliot's cell was dying, so I used my Tracfone to call McQuoid's. All their hotel rooms were booked, and all they had left was 4- and 5-bedroom cabins. Upon double-checking, they did have one 2-bedroom cabin for $269 plus tax. I politely declined. I called Scenic Bay, but got an "unavailable subscriber" message.
Annette, who turns out to be the owner of he store, came out to check on how we were doing, and I said that McQuoid's was full, and Scenic was not answering, so we were going to bike over to Isle, and if Scenic was unavailable, there was always the campground there. At that point, Annette said they had a rental that had been vacant for a month, and we could stay there. It was right across the street from the store. She said to think about it.
As Mr. Ratchek advised Johnny Rico, "Never pass up a good thing." I offered to pay Annette what we would have paid for a motel ($50 to $60), but she said that was too much. It turned out to be a 3-bedroom house. Elliot slept in another room to avoid my snoring.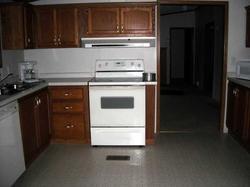 She gave us the key and just left us (strangers) there, saying we could return the key to her husband Jon at the store in the morning.
I am SO grateful for this place, as it has hot running water for showers, and electricity. No mosquitoes. And moreover, it rained tonight.
We went only 43 miles today.