June 27, 2010
We went back to the store in the morning, and both Jon and Annette were there. I returned the key to them with profuse thanks. The Glen Grill next door was open from 7-2, so we ate breakfast. There were all kinds of pictures on the wall showing the history of the place, which dated back to 1916. From the more recent pictures, I recognized a couple of the waitresses, probably their daughters. I asked what the weather was going to be like, and they assured me there were no tornado warnings in effect, and probably, it would burn off by afternoon.
It was raining moderately when I loaded up the bikes, but as we left Glen, the rain had let up. It drizzled off and on during the morning, but by the afternoon, all was clear.
I got my first flat that morning. It was a routine tube change that only took a few minutes. I will patch the tube later – the leak was not obvious.
We rode right past Malmo, but stopped at a convenience store near Isle that morning. There was a giant fish there. It was early for lunch, but as we knew it was 24 miles to the next town, I got a hotdog, and Elliot got a slice of pizza. Lipton Iced Tea products were on sale – 99¢ for the liter size (more than a quart)! It was cheaper than bottled water. I got a peach flavored green tea, and filled my bottle with it.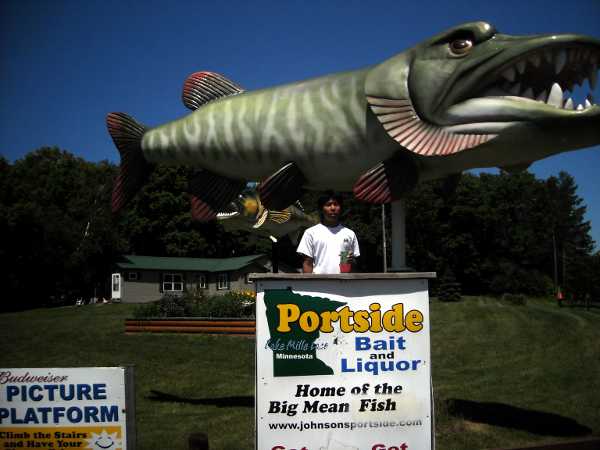 We put the hammer down and hit Ogilvie at about 2:30. There was a pleasant store there, air conditioned, with tables and chairs inside. Elliot ate an entire extra-size can of Pringle's, and I ate an entire pint of sherbet.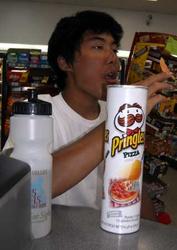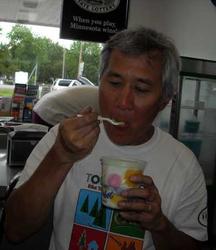 Elliot's bike had been making clicking noises, and I was unable to locate the cause. It would be good to find a bike shop. There were none along the route within range. In fact, there were few campgrounds. The only thing was a farmer's yard where camping was allowed. We decided to go off-route, and head for Cambridge, a city of about 5000. It was 30 miles away.
The woman behind the counter gave us directions. I love directions from locals, because they know things that Google doesn't. We were going to take hwy 95, but she said to take 65, it's faster. Go down the street 3 miles, past the Raceway, just before the road curves, turn right onto hwy 12. If you miss it, 23 will eventually run into 65, it's just longer. She knew which roads were paved and which were not. We left at 3 pm, and by 5:15, were in Cambridge.
There's only one motel in Cambridge – Crossings Inn and Suites. It's a notch higher than I would usually go for. The cheapest room is $80 (but big). I mentioned that I was an HP Employee, although I wasn't traveling on business. The registrar replied, "What's HP?" Yes, I'm definitely not in Silicon Valley, anymore. She gave me the corporate rate anyway, which was $72.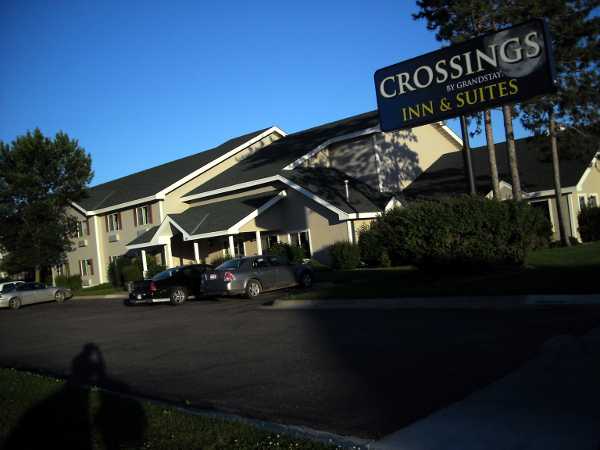 There's a pool, but also a heated jacuzzi (neither of which we used). They have a breakfast area that has apples, yogurt, milk, coffee, tea, and hard-boiled eggs all day and night. We didn't have any of that, either, since I got a foot-long from Subway down the street. Continental breakfast in the morning, of course. Wi-fi, naturally. When we got to the room, it had two queen beds with mints on the pillows.