July 27, 2010 11:37 pm
This morning, we went into town, as breakfast was not included with the motel. We ended up at the following place.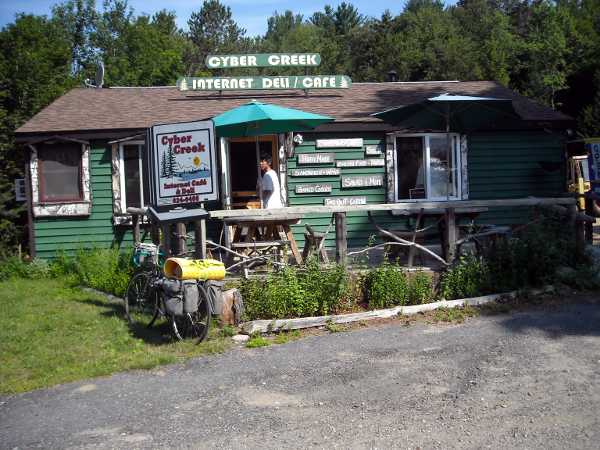 They were out of breakfast stuff, and weren't ready to make lunch yet (it was almost 11 am), but I was able to get a double-size blueberry scone and coffee, and they said it would be all right if Elliot ate his food from Stewart's Shops (a convenience store) at the table. As we were finishing up, a woman commented on the Sukodu shirt I was wearing. She was a big fan (a fact her husband attested to), and tried to explain how it worked to the cafe owner. At first, they used my shirt as a model, but I handed them a Sudoku that I was done with for closer examination.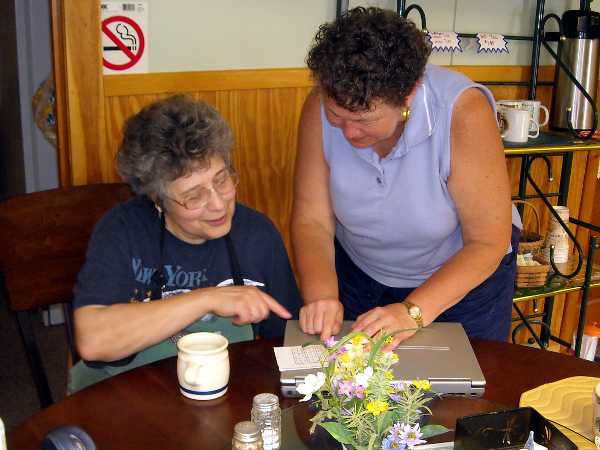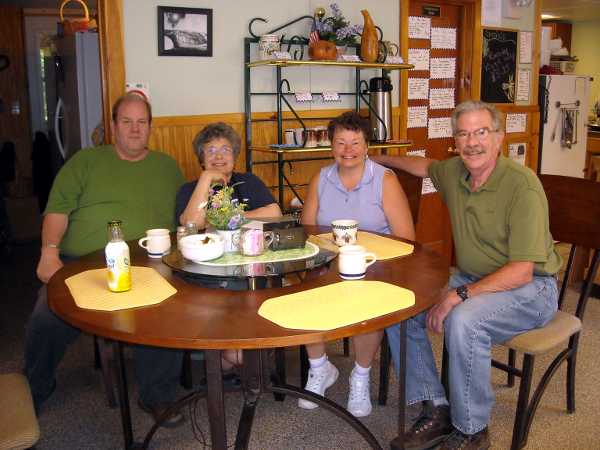 Their helper, Alexandra, was watching from the sidelines while doing some food prep and cleanup. She was from Romania. She had found an ab machine on the internet for $14, and was about to buy it with her debit card. I pleaded with her not to do it. Not only are infomercial items generally ripoffs, she didn't need it. My suggestion was to either do ordinary crunches, or ride a bike. What do you think, does she need an ab machine?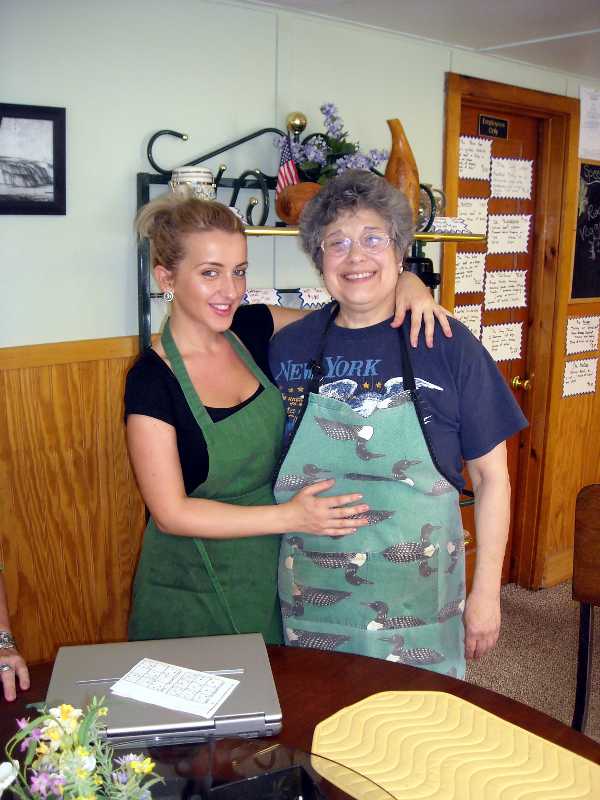 The others in the room mildly suggested she not do it, but what could we do? She's an adult. Shortly after the above picture was taken she used the laptop to order it, to find that the actual price was something like $289. But she had already put her number in. The others at the table sprung into action, finding the 800 number for the company. Small town folks help each other. I'm sure she'll get it straightened out.
On our first hill after breakfast, we came upon a lemonade stand. It was more expensive than most stands, but the cups were big. They also sold cookies, which we bought. 9-year-old Maria was running the stand, Lydia was babysitting her, and John is Lydia's boyfriend.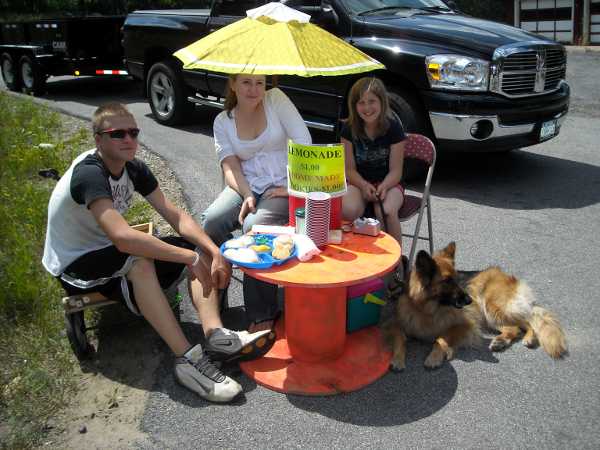 The trading post was also a country store that sold produce and baked goods. In addition to our usual drinks, I got a couple French Crullers, which were not the donuts I expected. They were hollow, like croissants. There were also antiques, handmade crafts, and other souvenirs. We picked up a few small things. The woman there said there would not be much left at North Hudson, the next town. I thought it would be a major town, but it was almost deserted. Lots of For Sale signs.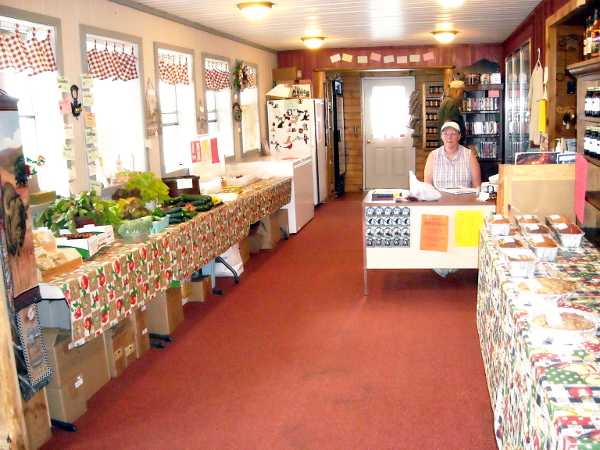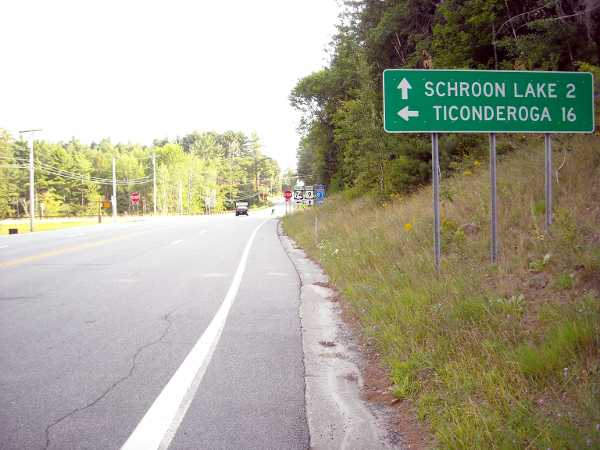 About 10 miles out of Ticonderoga (or "Ti," as the locals call it), I started to feel a stomachache. There were no bathrooms to be found, so I thought I might stick it out until the city. That turned out to be impractical, so I told Elliot I was going to turn down a road that led to a campground. I didn't know how far the campground was, but after a quarter mile, we came upon a fire station. I asked the firefighters how far it was to the campground, and they said 3 miles, over a hill. How far to Ti? 6 miles. In that case, was there a bathroom there that I could use? Certainly. I made it just in time. The radio went off while I was in the bathroom, and when I came out, one of the engines was gone, and only Larry was left. While we were talking with him, the siren on the station went off. He said it was all just a drill. Larry recommended the Circle Court Motel in town, and The Hot Biscuit restaurant owned by his friend who lived just down the road from the firehouse.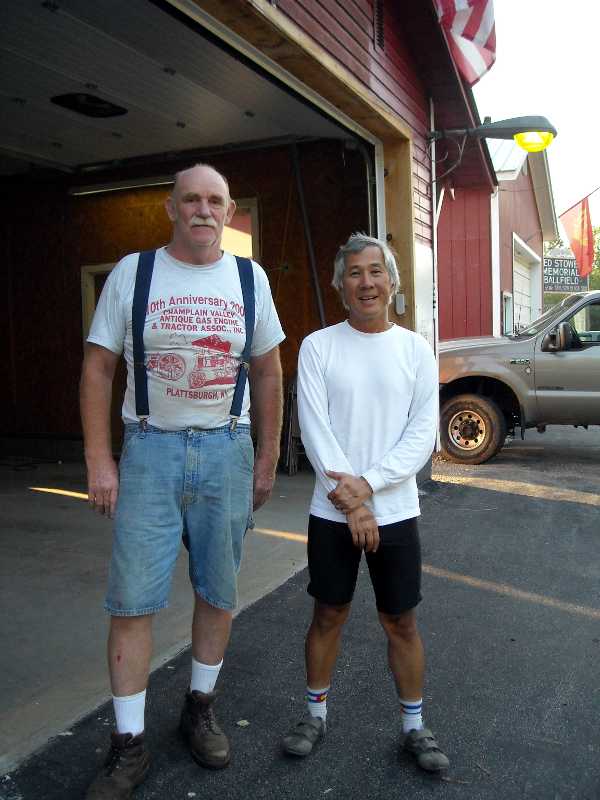 In gratitude for the toilet, we bypassed a number of cheaper motels in town, and went straight to the Circle Court, where I am now. We went to the Hot Biscuit at 8:15 for dinner, but were surprised to find that it closes at 8 pm. We'll catch it for breakfast on the way out.
Miles for today: 67.5
I expect turmoil in the next few days, as we scramble to plot a route to an airport to get back home. The Adventure Cycling Route does not go near any major cities in the few riding days we have left.