July 28, 2010 8:56 pm

We made it into the Hot Biscuit for breakfast. Larry was there at the counter; he said he ate there every morning. We sat at the counter as the regulars filtered in. Our server was Kathy, and next to us on the right was Pastor Maxson from the local Baptist Church. Good spirits all around.

We came to a river called Lake Champlain. I wasn't sure why it was called a lake, as it was flowing. There was this cord to pull that raises a flag to call the ferry from the other side It was $2 for each bike.
Just before Cornwall, I hit a pothole, and noticed a squeaka-squeaka-squeaka sound coming from my wheel. I stopped to investigate. While I was stopped, BOOM! The rear tire burst. My fault for putting too much air in it at the gas station. While I was squatting to pump air into the tire, rrrriip! The sole of my left shoe tore off. I would have much preferred it been my shorts, because we had the toughest climb of our trip coming up.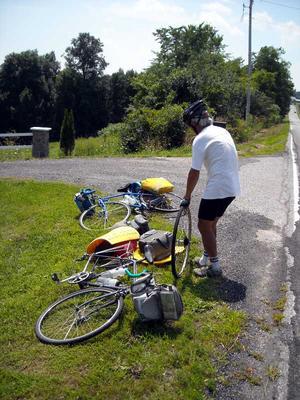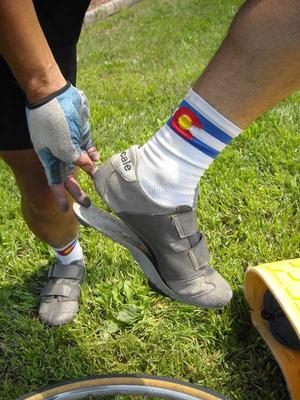 Cornwall was small, and unlikely to have a new shoe, or stuff to fix my existing shoe. At a produce stand called the Levalley House Farm Market, Earl offered me some epoxy, but also said that there was a hardware store in Middlebury down the road. He sounded like a Kennedy; he had a Massachusetts way of talking. I was thinking that epoxy would still take an hour to set, so we would go to Middlebury. I just wouldn't pull up with my left foot.
In spite of the name, Earl and Beth were not the Levalleys. They had bought the place from the previous owners. Business was steady. They had three children, who were away at camp at the moment.
They had wonderful tree-ripened fruit. We got 3 peaches initially. Elliot only wanted one. Then he went back and bought 2 nectarines. Then I went back and got a nectarine. As I stood in line to pay, Earl said not to worry about it.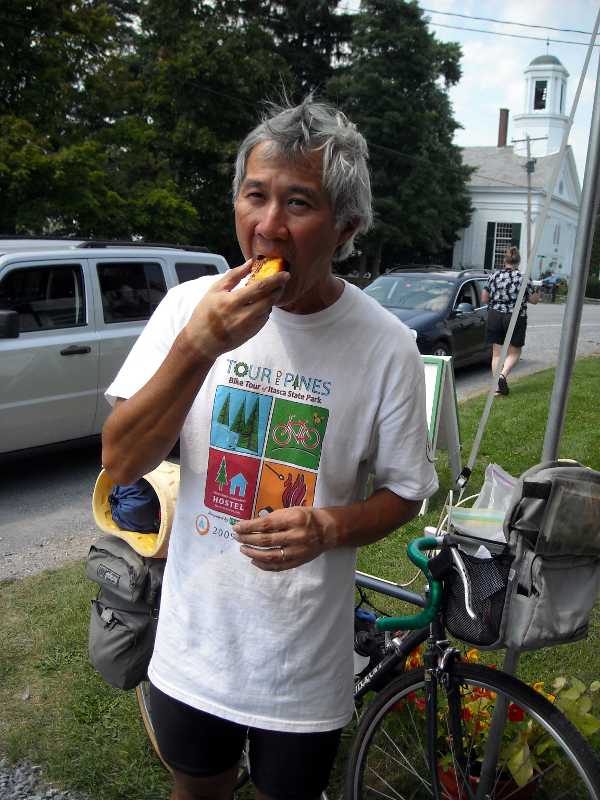 At the hardware store in Middlebury, I got some contact cement to fix my shoe. The instructions said to allow 1 hour for full cure, so we hung out for a while. I sent some stuff back at the UPS store. Mailed a postcard. We got a foot long at Subway. It was 4 pm by the time we hit the road again.
When we got to the hill, there was road work going on. Although the road was rough, we did not lose traction. Funny thing, pictures don't capture the steepness of the road. This hill is like Page Mill Road where we live, nothing spectacular. But our whole trip had otherwise been relatively flat. There was a Robert Frost something near the town of Bread Loaf – maybe this is where the poet lived? There were actually two climbs – to Ripton, then again from Bread Loaf to Middlebury Gap.



We reached the town of Hancock, and looked at the Adventure Cycling map. Our original goal for the day was Bethel, but as it was already 6:28 pm, that looked too far. Rochester was just 4 miles away, but only showed B&B's. There was the Old Hancock Hotel in our present town, so we decided to stop. One of the customers at the general store across the street said that the hotel had really good food.
Diane, the owner, checked us in. She had an interesting life, went to school at Georgetown, got married to someone there, moved to Manhattan, then later to Vermont. She also has lived in LA and Houston. She has been running the Old Hancock Hotel since 1989. Her ex, who is a musician, still works together with her.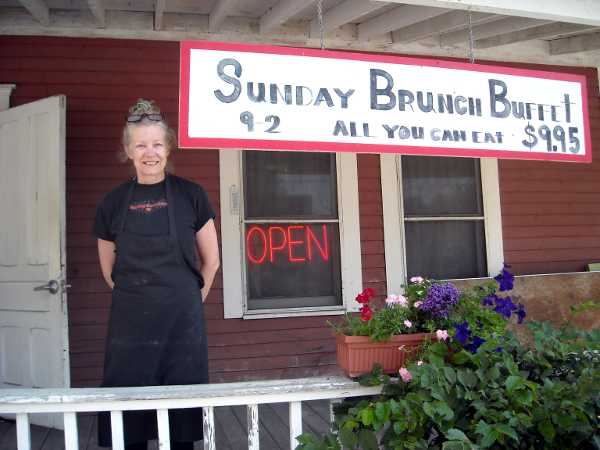 The hotel had 4 rooms, and we got room number 1. It was just $65 for two people, and could easily have slept six. There was no air conditioning, no TV, no phone, and no Wi-Fi. The mountain air was moderate, though, and A/C was really not needed. Without the distraction of TV, Elliot got to sleep early. There was a radio to play music, and a reading library.
Later on, I walked half a block down highway 100 to see the Gathering Inn. It had hostel beds for just $25, and Wi-Fi. It was unfortunately located, just barely off the Adventure Cycling route, which turns right on Highway 100 instead of left.
I think I should adjust my thinking. In Vermont, B&B doesn't necessarily mean expensive.
I have no regrets about our choice of lodging. $65 was a great price, and a thunderstorm started after we got in. Here we are inside our comfortable room, dry and warm.
Miles for today: 41