July 4, 2010
At Conover, Wisconsin, we made a choice. The right turn is known as the Manitowoc Alternate Route, and saves some miles by going right into Lake Michigan about halfway up, and cutting across on a ferry. A left turn is the standard route which goes through the Upper Peninsula of Michigan, then down across the Mackinac strait. My friend Julie said the UP is scenic and not to be missed, so we turned left.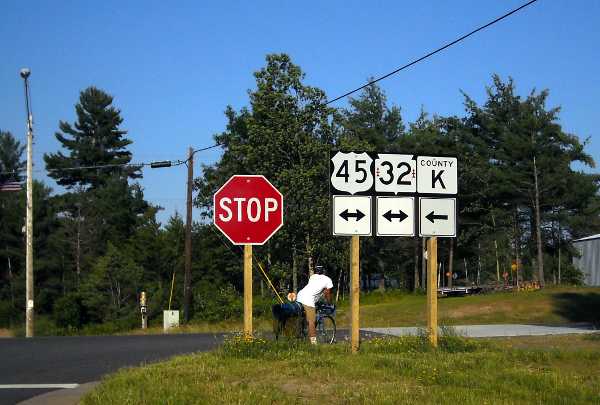 Phelps, WI, Part 2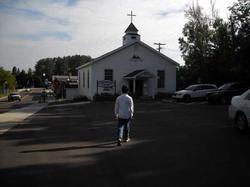 US Independence Day, 2010. Yesterday, we checked into the motel for TWO days. Today was our first day without riding. Like Sabbath rest, that doesn't mean we didn't bike at all, but we did maybe 3 miles total today running errands.
At 8 am, we heard the carillon call of the church across the street, and went over to worship with them.
We chatted with Sue and Kip after church at the refreshment time. They actually have two homes, and split their time between St. Louis and Phelps. Their son's family rides Centuries in support of Diabetes, since their grandson is type 1.
At noon, there was a parade, right down highway 17 in front of the motel. Many of the participants were on flatbed trailers being pulled by a truck or tractor.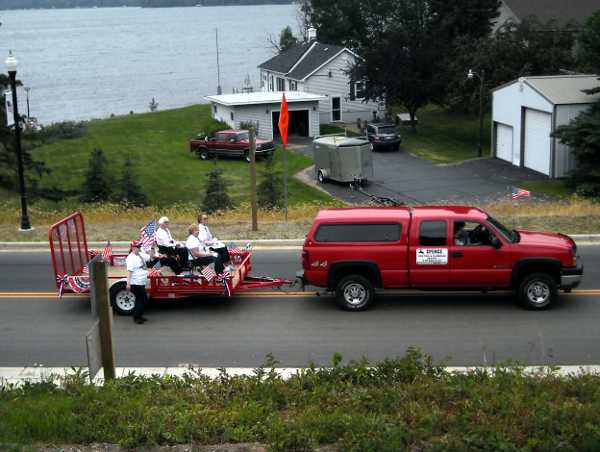 Elliot got some beads. I didn't see them until later. He said that some girls gave them to him. I asked if they were small girls, but he said they were older.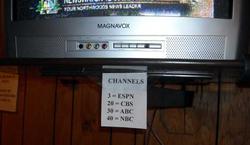 There is no internet at our motel. In fact, there aren't phones in the rooms, either. There is a TV in our room, which gets 4 channels. Elliot slept a lot during our rest day, but I went out to see the town.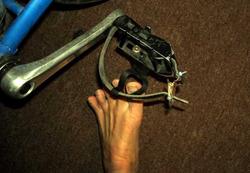 I got a drill bit, bolt, and nut from the hardware store, which to my amazement, was open on Sunday, even Independence Day. The clerk said they got a lot of business from the parade. And they were a bait shop, besides.
What I was really looking for was Wi-Fi. I used the iPod touch to scan around town, but no one seemed to have anything. The woman at the hardware store said that there was a picnic at the park on the hill, so I went up to look. Near the top of the hill, there was a sign pointing to the public library. The library was closed, of course, but I saw two girls sitting on the steps with an iPhone or iPod or something. I asked whether there was Wi-Fi there, and they said there was.
I spent over an hour on the internet, updating this blog, which is how the first Phelps post went out. It started to drizzle, so I couldn't sit on the steps. While I was there, a few other locals drove up and parked their cars in front of the library, I would guess for the same internet access.
After that, I went down the street to the picnic. They were grilling food there, so I got a brat with sauerkraut for myself, and two cheeseburgers to take back to Elliot. While standing in front of the concession, I met Black (that's his name), who had pain in his feet. He took me for a doctor, although I'm not sure why. Maybe it was the mirror on my helmet. He said that he had it for 18 months, and doctors couldn't figure out what it was. He was going to Wausau soon to get some tests. I said I would pray for him. He did not want his picture taken.
The VP of the chamber of commerce, Delnice Hill, was serving at the concession. She said her husband used to ride, but doesn't anymore, since they have 3 grandkids.
"Red sky at night, sailor's delight." I am hopeful that the weather will be drier tomorrow. We should easily make Michigan. If you see this post, that means that we made it to a Wi-Fi access point. Also, we want to mail some stuff home, but the Post Office could be closed on Monday, since July 4th was on a Sunday.