July 6, 2010
In the morning at Sagola, we mailed back a package of stuff. Elliot was never using his jeans, which took up a lot of space. We also sent back a pound of genuine wild rice, which was indigenous to this region. Everything fit into a $10.70 flat-rate Priority Mail box. Cheryl at the post office helped me pick out the right size box. She was a cyclist, doing rather long local mountain bike rides. She already knew who I was when I came through the door. Kris had told her. That's the way small towns work. I wished I could have visited longer with Cheryl, but we wanted to do 60 miles that day.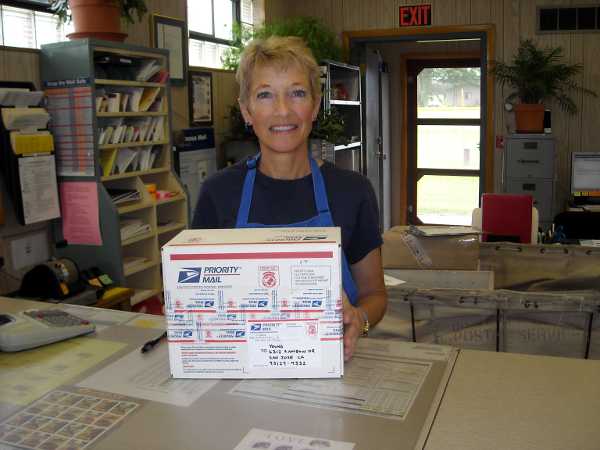 Just as we were leaving, I realized that the my front tire was flat again. More delays. I put on a brand-new tube. Since I had a sink at the motel, I found the leak and patched it. It was another impact puncture, not a thorn. That made 3 flats, all on the same wheel.
We were seeing lots of big logging trucks on the road. They had a considerable draft as they pass, but the drivers are professional, and give us lots of leeway when they can. Here is where they are headed.
We stopped for lunch at the Mill Town Inn, and were glad that we did. The place is an old schoolhouse converted to a Bed and Breakfast, and also has a bunkhouse for groups.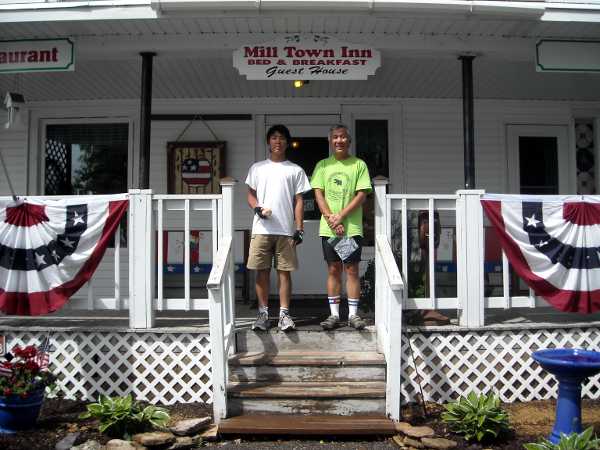 Donna was our server, and brought us lumberjack-size portions for a very reasonable price. A couple local men were at a nearby table, studying a map of lakes to look for fishing spots. One of them said that he hit a black bear last year and it totaled his car. The bear was over 500 pounds, and was killed instantly. He called 911, and when they arrived, they sold him a permit on the spot, and he got to keep the dead bear.
Anne told us that if we were concerned about the weather, that we could wait out the storm in the bunkhouse. It seemed to have let up, but even if it hadn't, we probably wouldn't have stayed. There was just one rumble of thunder before lunch, and it was quiet thereafter.
Further down the road, my rear wheel felt soft. I stopped and listened carefully, and could hear the little whine of the leak. This time it was the rear wheel, so I had to take everything off the back to fix it.
We saw lots of deer, both alive and dead. The live ones were even more shy about getting their picture taken than some of the people we met. They might be 15 feet from the road, but as soon as I pulled out the camera, they bolted.
We finally reached Escanaba at 8:15 pm or so. We had crossed into the Eastern Time Zone, so it actually wasn't so late. Outside a convenience store, I met Tim Hurkmans, who had ridden up on a bike and was enjoying a drink. I gave him a card, and in return, he gave us some aluminum coins. It turns out he's a Christian, and has a bunch of them to hand out. He said there was a motel by Hardees, reasonably priced, with a laundromat nearby. He grew up Iron Mountain, and used to work at Fed Ex.
The Lincoln Host Motor Inn had no pool, but had free tanning beds. I guess that would be an attraction, with lower upkeep than a pool. But as you can see from our blog, neither of us needed a tan.
I went to the Suds 'n' Sun laundromat two blocks down to wash the remainder of our wet clothes from the previous day. Was there something about tanning in Escanaba? The host at the laundromat was a beautifully-bronzed blonde with a charming smile, who was not too proud to mop the floor at closing. I didn't take her picture, because I didn't want to look like a Perv.
We did 65 miles for the day, very respectable.