July 3, 2010 7:47 am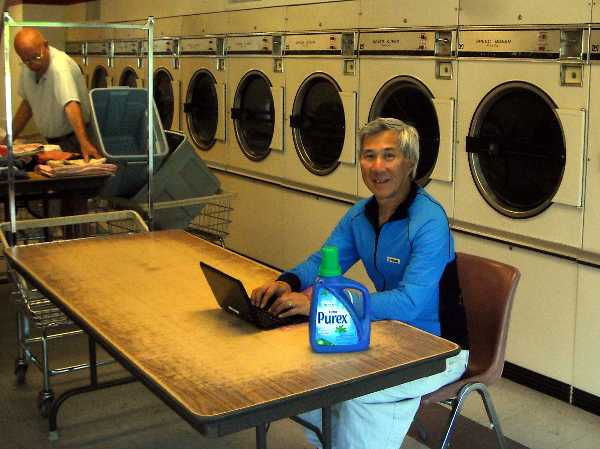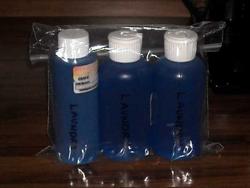 I awoke at 6:10 this morning. Every day brings promise of a fresh start, and a chance to do things better. I still haven't gotten rid of the browser hijack, but have learned which process to kill to disable it temporarily, I think. I'm sitting in a laundromat in Mercer right now, doing our load of laundry which doesn't even fill the washer 1/3 of the way. I put 12 ounces of the laundry detergent into smaller bottles for the panniers, but plan to leave the rest at the laundromat. We don't need or want the weight. There's a life lesson here, somewhere.
Elliot is back at the motel, likely sleeping. There was coffee, OJ, and toast at the motel, but that was all. A very basic continental breakfast. I will not sneer at food, though.
Susan Vacca was doing her laundry, too. Although they had a washer at home, she was bleaching items at the laundromat, because their septic system wouldn't tolerate bleach. She confirmed that Wisconsinites don't seem to eat many vegetables. They have their own garden. Susan has 3 grandchildren including two granddaughters 6 weeks apart. I offered her our excess detergent, but she said it wouldn't agree with their septic system, so I gave it to Carol, another woman at the laundromat.
As we headed out, we saw people riding ATV's. There are trails crisscrossing this entire area.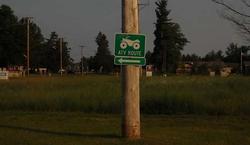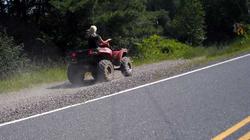 We reached Winchester at slightly before noon. There was no functioning store there, only a small bar. Elliot and I had cranberry juice. Jocko and Dennis, a couple of locals, dropped in shortly thereafter. We gave them cards. The woman behind the bar recommended that we take Papoose Lake Road instead of highway K.
Papoose Lake Road had virtually no traffic for miles, and had obviously not seen a winter, yet, as there were no cracks. It was shaded, too, on that hot day. I don't see why this isn't the standard Adventure Cycling route. We saved a mile going that way.
The woods are full of small trees, here. Timber is used for all kinds of things.
We reached Boulder Junction at 1:15. It was a touristy place, with upscale food, coffee, pottery and art galleries. Merrianne, I think you would have liked it.
The day was getting hot. We went into a shop for ice cream.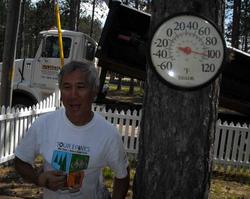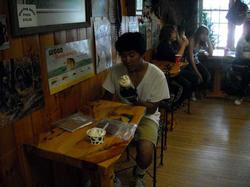 Outside the ice cream store, there was a canopy, and I met some other travelers. They were from Wausau, like Mark and Tiffany. Their daughter Amber had a slew of cute questions, as could only come from that age. I left cards with them.
The bike shop in town did not have a toestrap, but the man there helped me drill out the rivet from the old one. He charged us nothing for the work. I think I may be able to repair it with a bolt and nut. We wanted to have french bread, and made it to the bakery just at closing. The bakery's specialty was Pastys (PASS-tea, not PACE-tea, which is an ecdysiast's accessory). I had a beef and rhubarb pasty, Elliot had a pizza one.
The afternoon was wearing on. It was about 4 pm, and we had to decide whether to take one of the nearer campgrounds, or be ambitious and try for Phelps, 34 miles distant, which supposedly had a motel. As it was the eve of Independence day, it was a distinct possibility that the motel would be full. And it was hot. As if on cue, clouds rolled over the sun, and the wind picked up. I took it as a sign from God to go for it,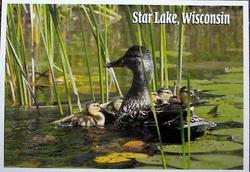 We got to Star Lake at 5:30. Plenty of time. Along with the usual cold drinks, I bought a postcard there. Debbie, the store owner, told us that the picture on the postcard was of an actual mother duck and ducklings by the dock behind the store, and if we went out back, we might see them. We looked, but possibly the boaters out there had scared away the ducks.
The store was closed in Conover, so we continued on highway K. By doing this, we were making a choice that would impact the next couple weeks. I'll talk about that in the next post.
We reached Phelps at just before 8 pm. There was still more than an hour until sunset. We needed the granny gear to get up the driveway of the only lodging in town, the Lakeside Motel. There was exactly one room left. The owner advised us that the A/C was broken, and the screen door wouldn't close. No problem, it would do. Perhaps that room was left for us precisely because of those problems? And there was a Congregational Church just across the street. God provides.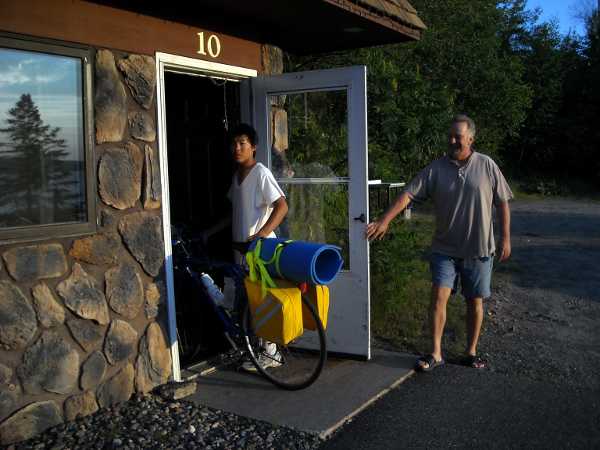 The room was like someone's normal house. It had a sink, stove, refrigerator, and all colors of towels, instead of hotel white. There was shampoo in the bathroom, unlike the $94 place in Mercer, which provided only soap. And there was a fan, which was quite adequate for keeping us comfortable.
We asked about restaurants, and the owner told us that if we didn't mind going to a bar, there was The Great Escape 3/4 mile down the street. We had burgers there. There was a deck outside on the lake, and we watched a fireworks show on North Twin Lake. As it was only July 3rd, I expected that there would be even more fireworks the following night.
Mileage: 65.7