July 30, 2010 9:53 pm
The morning person at the desk at the hostel recommended the Polka Dot Restaurant at the end of the block, since I was looking for a local diner. The restaurant had been closed sporadically, but had been taken over about a month ago by Rob and Jen, a couple from Missouri. There was a fair amount of traffic in the restaurant, but I was still able to visit with them. They have 3 children, and still work 20-hour days. The restaurant is open long hours, starting at 5 am. The fancy coffee shops nearby don't have hours nearly as long.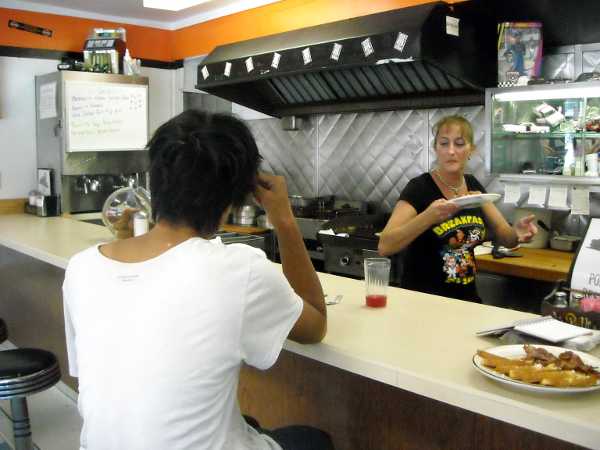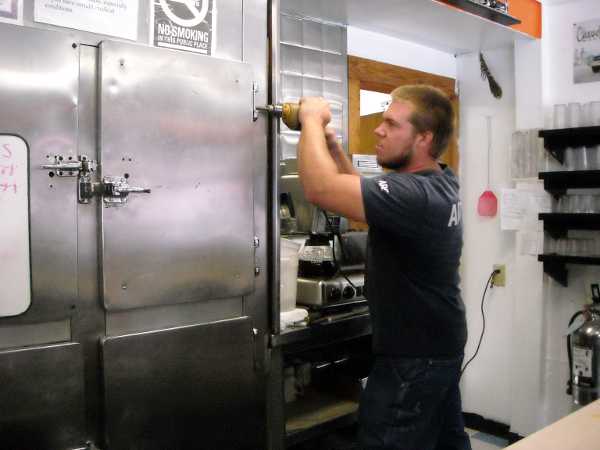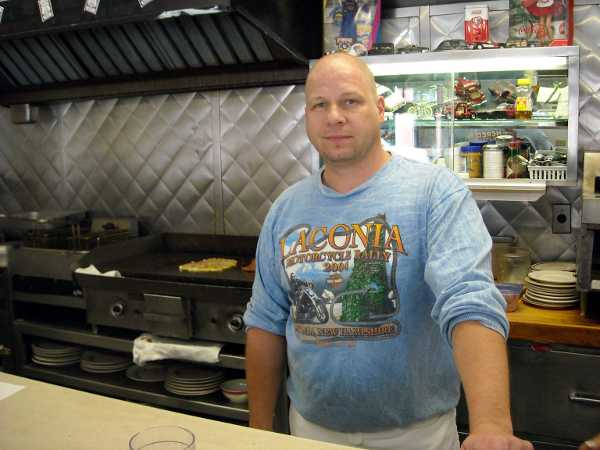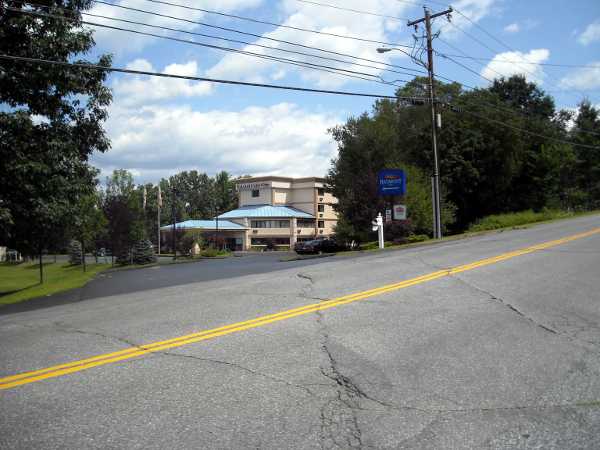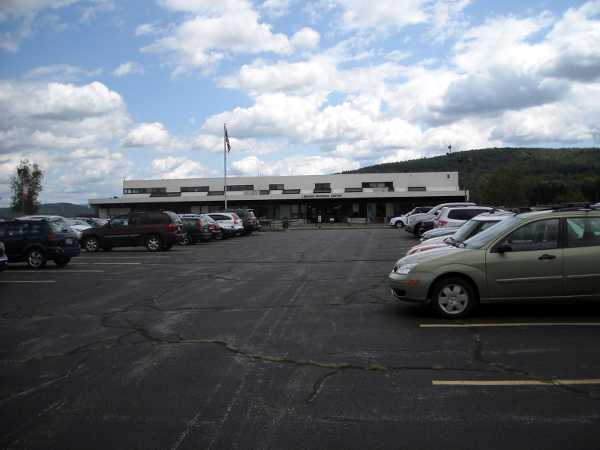 After breakfast, Elliot went back to the room to rest. I biked across the river about 3 miles, to the airport. Hertz was the only agency that had anyone at the counter at this small airport. I asked Barbara whether she had a small car, and she said that one just came in, but it wasn't clean. I assured her that we had been on a bike tour, and were sure that it would be fine. She said she was so embarrassed, as the previous person ate a muffin in the car and left crumbs, and kept apologizing, about 10 times. She tried to get us into a full-size car instead at the compact rate of $35, but discovered that the "dirty" Ford Focus was only $24. I was glad to take it. We were only going to drive it about 10 miles, anyway.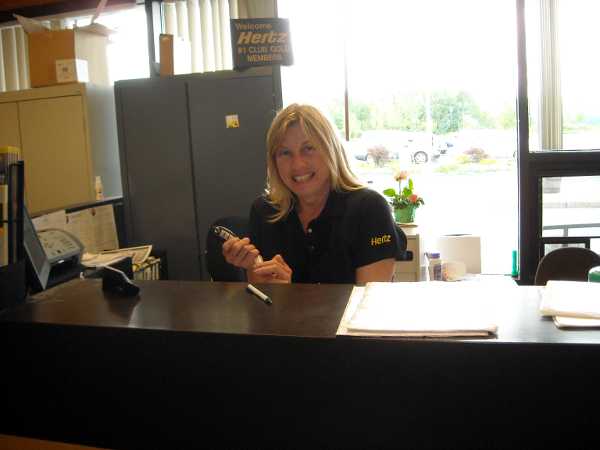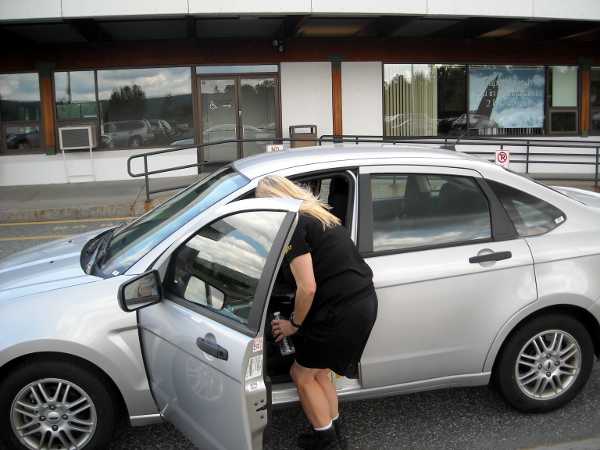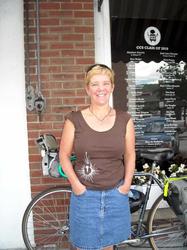 I put my bicycle into the car (it fit just fine with the seat folded down), and drove a mile back, to the UPS store. I left the car there, and biked back to the hostel to fetch Elliot. While we were outside packing up, we ran into several people Standing outside a hostel is a good place to meet folks. Nancy commuted 10 miles on bike each day. She said she would like to do an extended tour sometime. I repeated my father's admonition: "Why not now?" I gave her a card, and took the picture to the left.
After that, another person walked up to us. He asked if we were the ones biking from Fargo (I suppose someone with a card must have told him about us). When I answered in the affirmative, he gave us a book of beat poems by Robert Nichols, and woodcuts by a local artist. Peter Money has his own publishing company, the Harbor Mountain Press. He also taught from time to time at the Cartooning Academy.
Peter flagged down Casey Bohn, who happened to be passing by. Casey had just graduated from the academy, and was living in the Hotel Coolidge, just across the hall from us. I thought he looked sort of familiar. He said to wait a minute, and ran into a nearby coffee shop to get a couple copies of his work, which he gave to us. There was a poster right in the window with Casey's name on it, and also the name of Katherine Roy, from Cupertino, California. That might have been the daughter of someone I know.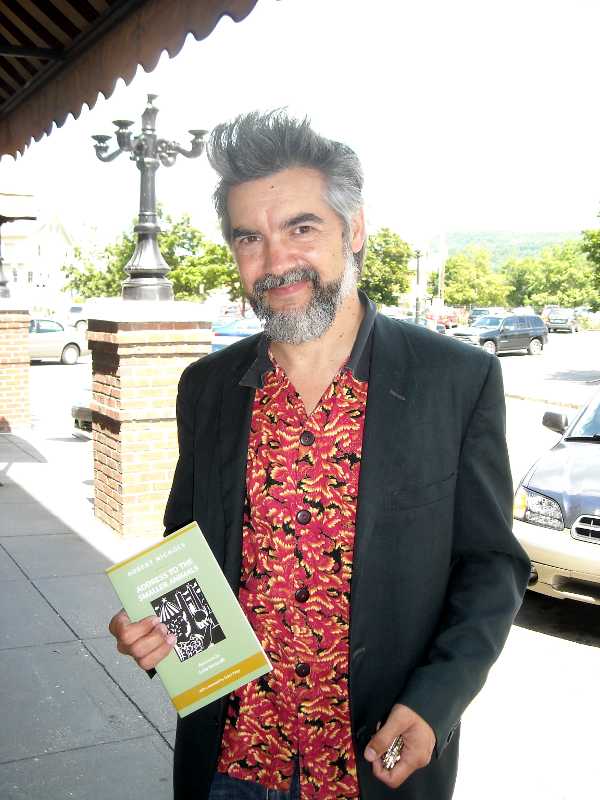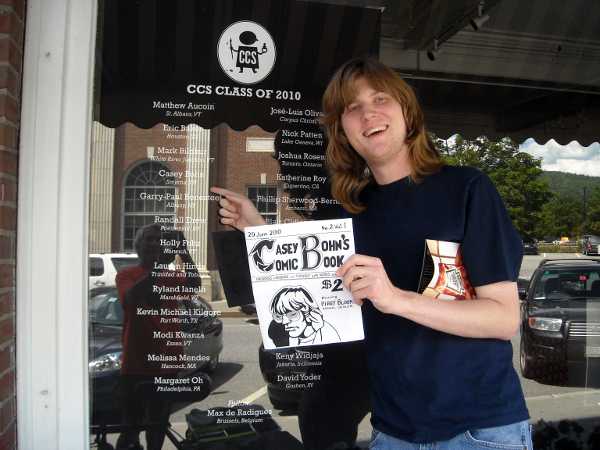 We finally got on our way, and biked over to the shopping center where the UPS store was located. We were hungry, so ate first at the 99 restaurant there. I got a Haddock fillet on linguine, full entree, for $9.99. Elliot got chicken tenders, tri-tips, and fries, also for $9.99. There was so much, he took most home in a box.
At the store, the people there helped us box up the two bicycles, and all the gear we could ship. The charge was $440 or so by the time we were done, so slightly more expensive than the airline, and it would take a week by UPS ground. If we had found our own boxes, it would have been substantially cheaper, and if we had carefully crafted max size carry-ons as before, we could have dispensed with one box. But the convenience factor was worth it. We were done in an hour.
I did a few postcards, then we drove back to the hostel. It was the first time Elliot had ridden in a motor vehicle (not counting boats) in six weeks.
Elliot was not hungry in the evening, but I had a craving for a milkshake. Most of the restaurants were closed, except for the pizza place, Elixir, and the Polka Dot. I didn't want pizza – I could get that any time. I went back to the Polka Dot. There was a sign showing all the homemade pies that Jennifer had baked. She made everything from scratch, from recipes passed down from her grandmother. When she made lemon pie, she squeezed fresh lemons. Vinegar pie was something I had never heard of before, so I decided to get that. But since there was Haddock on the menu, I got a full dinner first. Rob said that they got fresh Haddock every Friday, and it went fast. He also told me that Vinegar Pie was by far their most popular.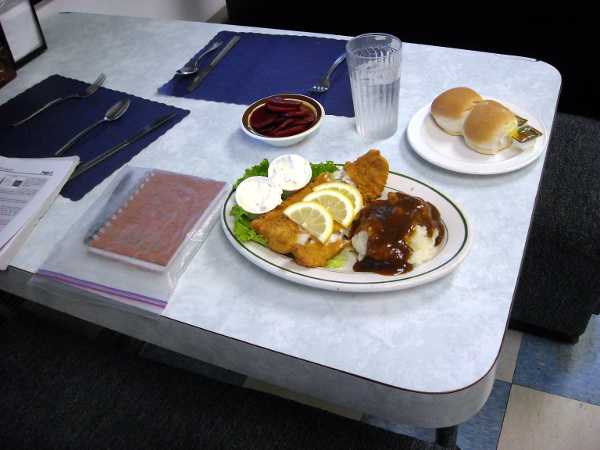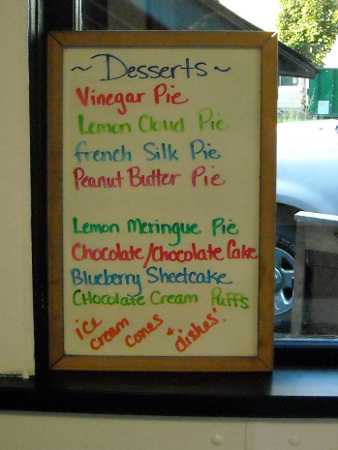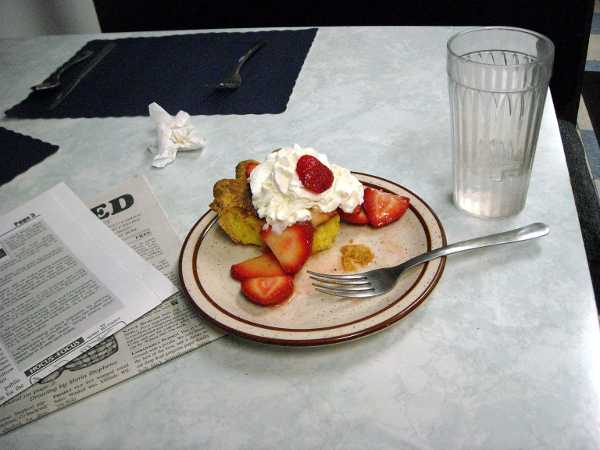 The vinegar pie was absolutely incredible. It was not sour at all. It was kind of like a lemon bar, with strawberries and whipped cream. I scraped every crumb from my plate.
So if you're in the vicinity of White River Junction, VT, or Lebanon, NH a mile away, do stop in at the Polka Dot Restaurant, and order a slice of vinegar pie.
Miles for the day: about 10 (cyclometer broken).