We're en route! Left the house this morning at 4:25 am for San Jose Airport.
At first, the guy at the counter said our carry-ons wouldn't fit, and wanted us to check them for $25 each. This, on top of the $200 each for the bicycles. I was able to demonstrate that the bags (cardboard boxes I made exactly to 14″ x 22″ x 9″) fit in the tester, so he let us go. He weighed the bikes, and got 42 pounds for one box, and 41 pounds for the other. For $200, you would think they wouldn't quibble about weight! We were easily within limits, by the way. We wore our helmets onto the plane, saving yet more packing space.
At the gate, the agent announced that there was some scheduling trouble the previous night, so our flight was absolutely full. He asked for volunteers to check their carry-on bag at the gate, at no charge. That was a good deal to me, so I did it.
Both of us were dead tired. Elliot slept 2 hours the previous night; I slept 20 minutes. And now we're in Salt Lake City Airport. This place looks remarkably like Hawaii, at least, the dry Ewa side of Oahu. The only difference is a slight trace of snow on the mountains.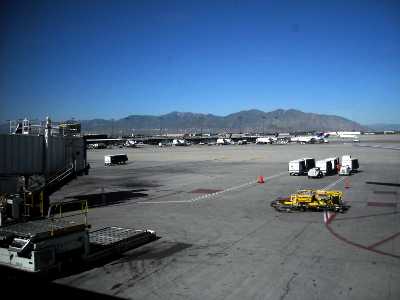 Our breakfasts were unconventional 1-item bowls at Manchu Wok at the airport. Almost $12 for two, then another $2.50 for a Snapple lemonade for Elliot.
This airport has free Wi-Fi, which is how I'm blogging right now. Good thing we didn't check Elliot's carry-on – that had the laptop. We got in at just after 9 am local time, and don't leave until 1:48 pm. We're supposed to get into Fargo, ND at about 5 pm. Then it will be a mad rush to claim the boxes, and hopefully, assemble the bikes right on the spot at the airport. We'd better get more rest.