July 19, 2010 12:31 am
We left the campground at 9:30 or so, searching for the Green Roof restaurant which had been recommended to us. I couldn't find it, so we ended up at Foodland, and had a box of fried chicken and potato wedges for breakfast, with some bottled juice. There was more than we could eat, so we put the leftovers in ziplocs.
According to our map, Port Bruce was supposed to have food, but we didn't see any. I was getting hungry. Copenhagen was just a few miles down the road, and had drinks in the Wood Store. David, the proprietor, gave us a free copy of the Daytripper, a thick newspaper with all the attractions of southern Ontario listed. He also detailed the next six or so towns, saying that if we wanted a Motel, we should not go beyond Port Dover. He confirmed that Dover was another resort area, like Stanley.
I noticed later that all the locals seemed to be ordering the same thing off the hot dog truck next to the store – a basket of fries with ketchup. Elliot's stomach was unsettled, but I wanted something. There were a few unfamiliar items on the menu. There were two women working inside the truck. Virgilia explained to me that a POGO is what we call a corn dog. David was standing there too, and they both tried to explain what a Peameal was. The best part of the bacon, crusted in something. It contains no peas. They didn't know why it was called Peameal. I ordered one to see what it was.
Oh. It's basically Canadian Bacon (which they just call bacon), with melted cheese. There were various relishes on the side, including some kind of pepper relish that I had never seen. The sandwich was delicious.
Port Burwell down the road was a tourist strip, but we did get to see Canada's oldest freestanding wooden lighthouse.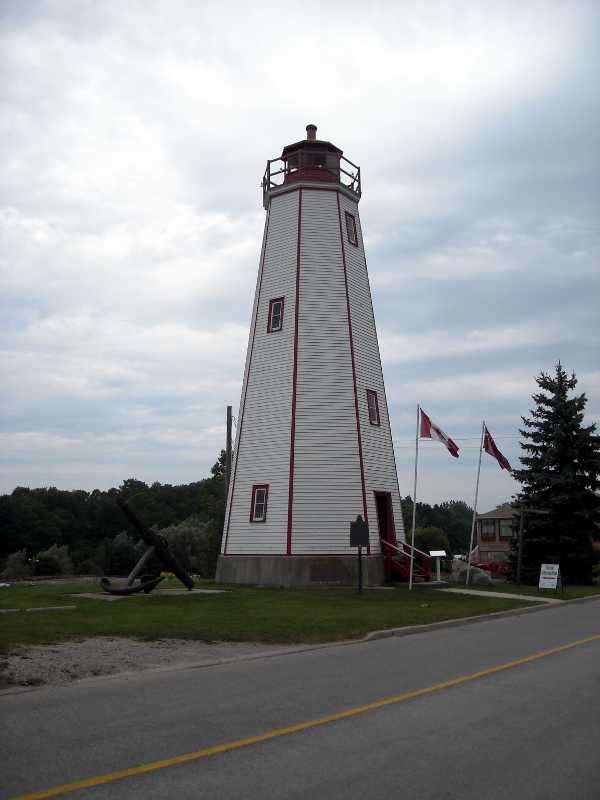 There was a beach there, too. People went out despite the cloudy weather and murky water.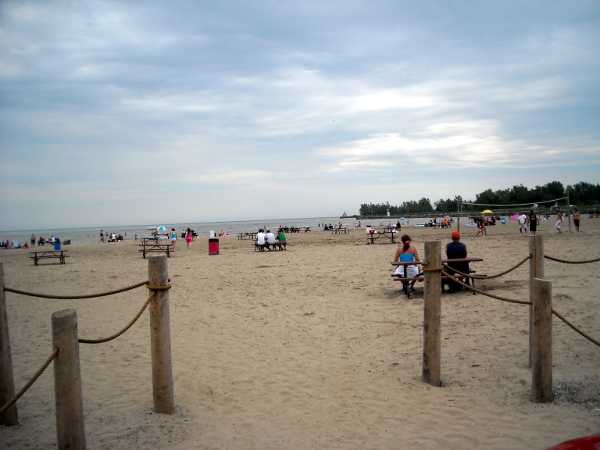 We passed dozens and dozens of wind turbines along the shore of Lake Erie. They were everywhere.
I had been feeling tired and lightheaded for the past few hours. I realized that since we had camped, I didn't have a morning coffee, nor did I have anything caffeinated like iced tea all day. Houghton Centre had no services. The store at Clear Creek was closed on Sundays. We stopped at the COOP restaurant at the junction just outside Port Rowan. I had intended to just get a coffee, but we ended up having dinner.
The restaurant served Pickerel, a fish that had been recommended to me some 20 years ago, but that I had never had a chance to sample. Elliot was still not very hungry, so just had a bowl of chowder.
The person at the next table was Abe (Abraham). We started talking. He picked cucumbers at local farms, among other things. But that was only seasonal work, as there were no crops in the winter. He aspired to get a scooter, and move to Manitoba, where he heard there were more jobs. He also thought he should get married (he's 24). He said it so matter-of-factly, that I asked him whether it was arranged marriage in his culture, or whether he hoped to meet someone. Finding a life partner was not an easy matter for me.
Port Rowan turned out to be all bed-and-breakfast. The Adventure Cycling map mentioned the Long Point Beach Motel, which we found by asking around. It's actually no longer called that, it's now the AtPlay Adventures Resort and Suites. We got a room for $139 plus tax.
Once inside, we started charging everything. Both phones were dead, we had no spare AA batteries with a charge, and the iPod was exhausted.
After dark, a sudden wind whipped up and blew the door of our room open. I watched the resin chairs get blown off our porch and down the street. The intense wind lasted about 5 minutes, but there was lightning and thunder thereafter. The TV said that our area (and the area we would hit tomorrow) was under thunderstorm warning. One person had died from a lightning strike while tubing down a river, and another few had been injured elsewhere.
We did 53.6 miles that day.
Our room had a lake view. Here are the squalls from a distant storm on the next morning.