July 14, 2010 9:04 pm

I did some computer work this morning. I think our netbook has the TDSS rootkit on it, but I don't want to be rash and risk trashing the operating system. I did, however, back up our data files to flash.
I was at the laundromat at 9:20, when continental breakfast was just about to end at the motel. I gave Elliot a call, but he said he wasn't hungry. So neither of us had eaten anything that morning when we left Bay City. I thought we could get some food on the other side of th river, just a few miles into our ride. We left at slightly after 11.
No more winging it, we were back on the Adventure Cycling map. It was a hot day, and we passed many fields with the plant in the picture above. Does anyone know what it is? The irrigation was running in some fields, including the one below spraying onto the road.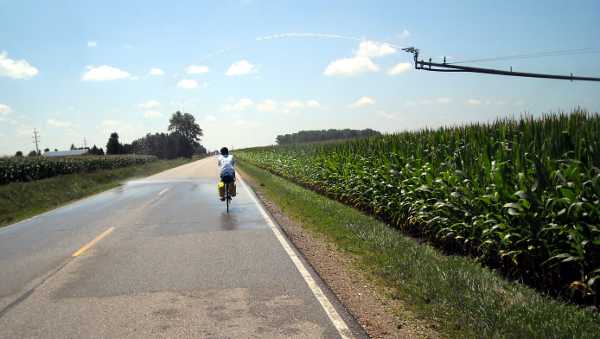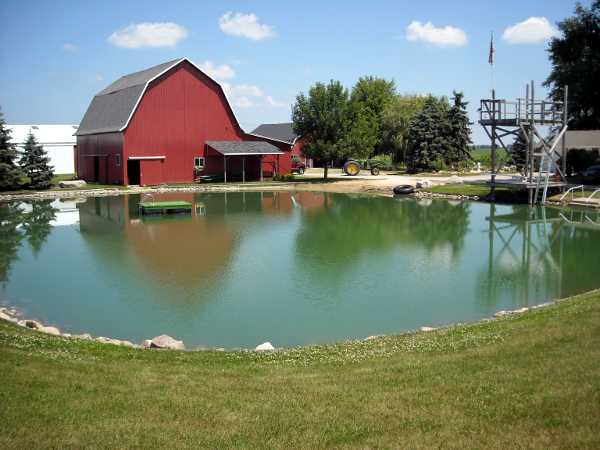 This part of the route was bereft of food, we found out. There were a few businesses, but those were seed or nursery stores, or boat-related things. No gas stations, no restaurants. I had one bagel left over from a previous continental breakfast, and divided that with Elliot. I was also able to nibble on a piece of Elk jerky, and had about 10 peanuts left in my front pack. We were starving by the time we reached Fairgrove, 27 miles away. There were few restaurants there, too. Elliot picked out Castamore Zangalotti's for lunch. The inside of the place was filled with nostalgic items.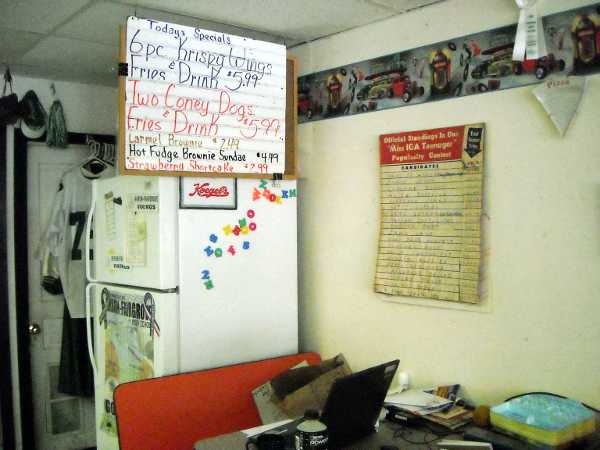 We had dough balls there, which is basically bread cooked by deep frying. They were kind of like doughnuts, but not sweet. There was a choice of sauces, so we picked nacho cheese. Elliot had a half dozen buffalo wings, and I had a giant jalapeno burger. We also had 5 pops (sodas) between us.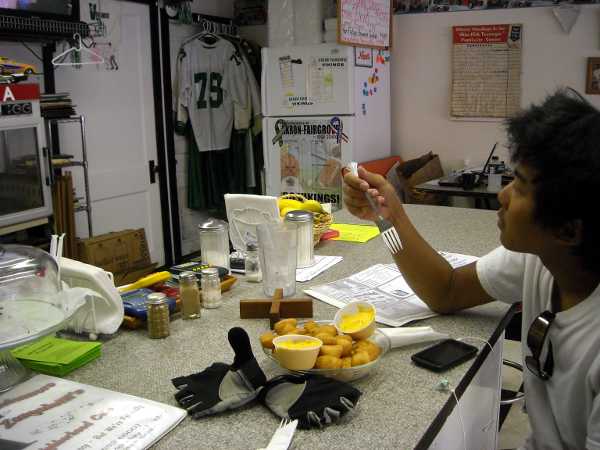 The owner, Ron Thomas, used to have a video store on the site. In 2001, his friend started selling Pizza from the place. Through some business circumstances, Ron ended up acquiring the food part of the business, and they became a full restaurant in 2004. The name is just something that came to him in a dream. He woke up and wrote it down, then later searched the internet, trying to figure out what planted the name in his mind. Finding nothing, he named the place Castamore Zangalotti's. Ron sat at the end of the counter, and kept us company during lunch.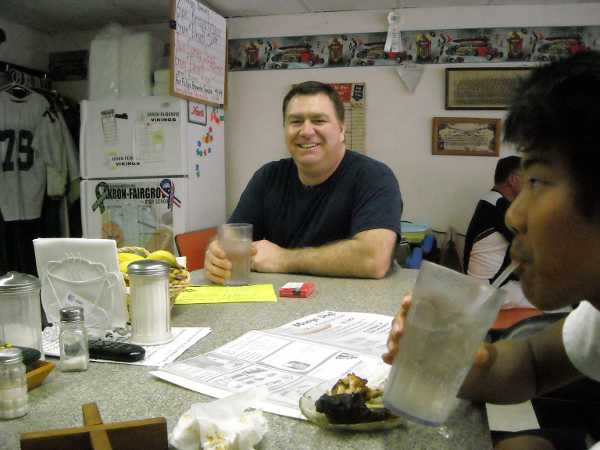 Ron's friend Fred walked in a little later. Fred is building a cabin, and has a couple golf cart batteries hooked to a 120-watt solar panel for power. I think he said the place was 16 x 24 feet, considered small. That's the opposite of the cabin I dream about on the lava field – I want 10 x 10 feet, with 1200 watts of solar. Both Ron and Fred gave us suggestions for a quieter route to take than Adventure Cycling's standard. Ron even drew us a map.


Seeing that there were few campgrounds and no motels further down the road, we decided to head for Caro and call it a day. We arrived at about 4 pm, so had tons of time to shop. Elliot's left toeclip had come loose (the bolts had fallen off), so we got replacement bolts at ACE hardware. I bought two bottles of "Pink Lemonade Drink" from the Family Dollar store. It was vile! The day was hot and humid, and we had just cycled 13 miles since our last drink, and I still found it unfit for consumption. I later poured it down the sink, although the toilet would have been more appropriate. We looked at each of the three motels in town, and decided that the King's Way looked good. It had Wi-Fi, and was $55 for a room with 2 queen beds. Nice place, very clean. I saw a waffle maker on the table for continental breakfast – I wonder if they have waffles?
Wal-Mart was right next door to the Motel, so we walked over for groceries, mainly fruit and Gatorade. Elliot got a bag of salad, as he was feeling full from the dough balls.
As we returned to the room, there was a woman sitting on the bench outside. Michigan has a new law, that there is no smoking in ANY motel room. All the motels seem to put either resin chairs or benches outside, with ashtrays. It's also a good place to just sit and visit on a warm evening. I started chatting with Mary, and ended up spending more than an hour listening to her stories. She had medical stories (heart attack and stroke), and told me how she got engaged to her late husband after only a few weeks (he was on 30-day leave from Vietnam). Mary lived nearby, but was visiting a friend who was living in the motel while the insurance rebuilt her burned-down house. I wished I had more time to make a recording.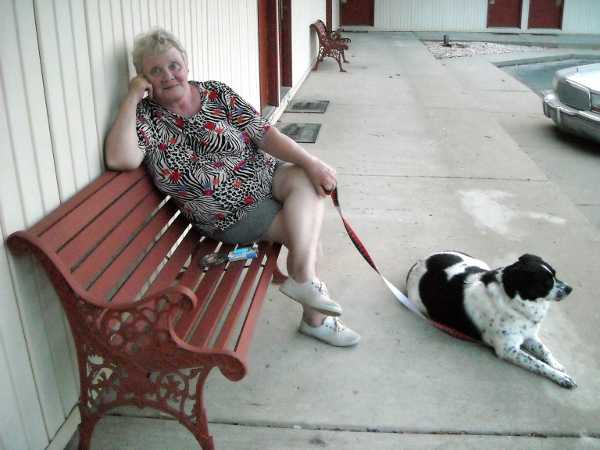 We rode only 40 miles that day.
Tomorrow, there is a campground 20 miles away, another campground 58 miles away, and a motel 94 miles away. We're going for the motel, so you probably won't hear from us for a while.